"BANT" describes the sales qualification process for stimulating and acquiring an interest in a product or service to develop a high-quality sales pipeline.
Sales qualification is the process of deciding whether the prospect in front of you (the potential customer) is worth your time as it takes to reinvest in them.
It's an effective way to examine whether a potential customer is interested in the opportunity you are offering.
Let's understand as a sales rep, how do you qualify your prospects as a significant lead?
The BANT sales qualification tactics can help resolve whether an opportunity is likely to be thriving.
Sales qualified leads are considered first and leading from a budgetary standpoint. If the possible customer doesn't have the funds for the product you're selling, they probably aren't qualified lead.
What is BANT?
The acronym BANT stands for Budget, Authority, Need, and Timing. It is a sales qualification system by IBM in the early 60s. IBM states that BANT is an opportunity identification criterion.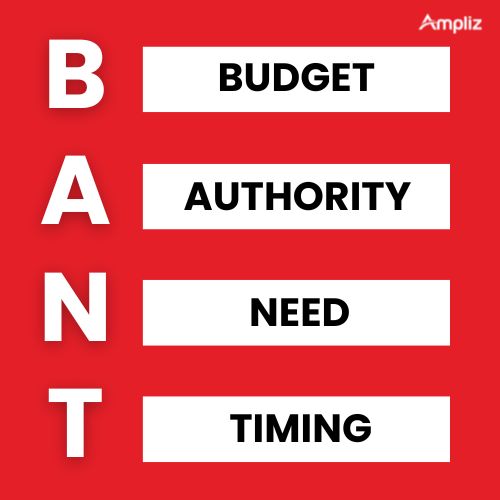 Opportunities are acknowledged by speaking to prospects or clients to determine their business and solution prerequisites.
IBM's direction for opportunity identification is to use a conventional approach called BANT.
According to the guidance, an opportunity is worth considering indorsed if the prospect meets three of four of the BANT items.
BANT full form
BANT is a sales qualification model used for finding sales leads that meet the requirements and deciding on the ones that are most likely to convert.
BANT stands for Budget, Authority, Needs, and Timing.
Budget: What is the prospect's budget?
Authority: Does the prospect have decision-making authority, or is she an influencer?
Need: What is the prospect's business need?
Time frame: In what time frame will the prospect be implementing a solution?
If the lead does not meet the BANT criteria, the sales representative has the choice to nurture the opportunity by planning follow-ups with the opening within an agreed specified time frame."

The key elements of BANT
1. Budget
While you can develop an estimation about a company's cash flow through external research, only a well-positioned party can tell you what their actual budget is.
Ideally, leads will have reserves on hand to pledge to a solution right away.
If there are persistent disparities between consumer budgets and your offering, the prospective client may be coming from the wrong company size category or industry.
2. Authority
Authority is a difficult question in today's setting of complex consent-based B2B sales.
Still, there's usually a single person who has the ultimate authority to sign off on a procurement.
That stakeholder may give initial work to a designated product investigator, so make sure you're connecting with the right person early on – and try to accelerate the conversation if you aren't.
3. Need
In B2B selling, established companies usually don't research a product seriously unless there is a clear need. Still, this is tied up intricately in queries of budget and authority.
A purchase that the HR or IT teams "need," for example, might not be considered a weighty priority on the organization's outlook and condition at the time.
Not only do you need to outline the need and ensure it supports your sales goals; however, you should double-check to be sure your products or services meet the client's expectations.
Preferably, a detailed discovery call will provide the opportunity to navigate clear of prospects with unworkable requirements.
4. Timing
A sale six months down the line is better than nothing at all. However, the closer you are to the tick of a closing decision, the better.
Nurturing a relationship for months in advance of a sale even happens is a laborious undertaking, all though inbound marketing empowers with the tools to do it.
Many large-ticket B2B purchases don't happen until the pain caused by the need turns out to be pressing for the decision-makers.
If it seems like the divine timing is open-ended, you can always find ways to jog your leads memory about the opportunity costs of vanished ROI.
BANT lead qualification questions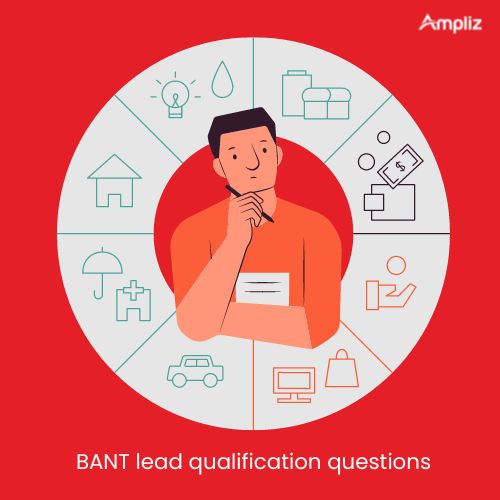 1. Budget
What do you currently spend on this problem or need?
Your team intends to lose X amount per [week, quarter, year] on solving this issue. How does that fit in comparison to the budget set aside?
We've calculated your team is losing X amount per [week, quarter, year] on this problem. How does that compare to the budget you've set aside?
We've calculated your business could gain X amount per [week, quarter, year] by making this [change, investment]. How does that compare to the money you've set aside?
How much would it cost you to build the system inhouse?
How much would it cost you if the issue persisted for the next five years?
How heavily will the price influence your judgment?
Have you identified a spending range for this buying?
What's the ROI you're expecting?
2. Authority
Who will be the user of the artifact?
When was previously you bought a comparable product? How did the decision-making process go?
It is usually the stage where my client brings in [the head of Finance, the other patrons, their manager] to [discuss X, get their viewpoint on Y]. Do you want to ask [Z person/people] to our next summit?
Will anyone else be involved in this choice?
3. Need
When did you recognize [problem, opportunity]?
What steps have you already taken to take care of it?
How central is addressing this to your individual goals at [company]? Career goals? Your department's?
What are your top priorities at this minute? Where does this fitting on that list?
What happens if you don't take care of the issue?
4. Time Frame
Are there any forthcoming events/deadlines that you'd like to have a product in place?
Are you preparing any [insert relevant project here, i.e., lead generation promotion, major employing spree, program overhauls, others.)?
What's your [lead generation, revenue, retention, others.] objective for [next quarter, half of the year]? Will you be able to meet that objective without some change?
Working recessively from the date you gave me, we'd need to finalize our agreement by [earlier date]. Is that sound doable?
What is sales qualification?
Sales qualification is the process or steps followed by the organization for evaluating the potential prospects against a specific set of parameters.
It helps to determine if the opportunities presented possess the traits you are looking for, which can make them an excellent fit to use your product or service.

Some benefits of BANT
Generally speaking, BANT applies to all kinds of buyer personas, so it's a reliable framework to implement across any sales department of an organization.
Irrespective of you work for a SaaS-based product company or at a marketing agency, the rules of the BANT framework are broad enough to accommodate various industries where they'll likely relate it to the types of leads your team has.
Setting up a formal structure for your team hierarchy to follow to see to it that everyone is on the same page and toiling to better the lead quality that of the prospects in your sales funnel.
Certain drawbacks of using BANT
BANT has been around for a very long time already. Even if this means the system is tried-and-tested already, it also means it might be very well outdated.
Critics of the lead qualification structure believe it to be highly seller focused, and not sufficiently attentive on the prospective buyers.
As digital resources like whitepapers, case studies, blogs, and other resources become handier than their paper counterparts.
It allows buyers to have taken care of their product research before submitting a contact form and becoming an authentic lead.
It means that the organization doesn't want to validate to a sales representative why they are qualified to purchase and could be held over by the various questions set up that adhere to the BANT framework.
What does it mean for BANT and B2B Sales Qualification in 2023?
SaaS is one of the fastest-growing industries today
The SaaS cloud-based application services market segment is estimated to reach $113.1 billion by 2021, up by almost twice from the 2017 revenues of $58.8 billion.
The market that estimates to grow at this rapid pace cannot align itself to work in the old ways.
For SaaS companies, BANT has lost the natural meaning that is held so close to heart for some organizations even after half a decade.
The definition of BANT has transformed, or I would rather say it updated itself to the current trends.
Therefore for SaaS companies:
Budget – SaaS is a subscription-based model. Companies having real need charged from 500$ to 1000$, a year doesn't leave as much impact on budget compared to 40,000$ a year bill.

Authority – SaaS organizations are relatively flat organizations. The hierarchies are not tall. Therefore there is no single person who can be the sole decision for purchase and procurement.

Need – What does your SaaS address? Is it a Need or something "Nice-to-have" like most of the services and products?

Timeframe –The concept of deadline different for a SaaS deal. The sales cycle measured in days and implementation over in a single "click"?
The rules for SaaS have changed for good.
Keep mind of these rules:
1. Prioritization over Budget
As stated above, for a good company having real need charged from 500$ to 1000$, a year doesn't leave as much impact on budget compared to 40,000$ a year bill.
The budget is no more an issue. It always drills down to about it being a priority, which fluctuates over time.
As the priority changes, the client may go dark, leading to the belief that the "budget ceases to exist," not realizing the wind may have changed in your favor in which the priority will increase again.
It is even a better situation.
Understanding the customer situation, you may outline the impact your service is making and how it can be part of the solution for other challenges the customer may be experiencing, and with it, you will be able to increase or decrease the priority accordingly!
2. Authority is flat and not tall
SaaS has moved away from hierarchical (top-down) decision making. SaaS organizations have become flatter.
In most of the cases, a single user can report if the service does not perform as promised, changing the course of action.
Most companies today build a team that has to come to a consensus. The unit can consist of 1-2 users, a manager, someone from financing, and others.
Traditionally, users turn up into managers, who, in turn, furl toward an executive who collects the info and makes the decision.
However, SaaS services are "user experience-driven." It is one of the many reasons why UI/UX has become so important in recent years.
A committee is a decision tree. In most cases, the committees, the executive is not the person who will make the decision, but a user who has to work on it every day.
The user is guided through the decision process by the manager and the other executives.
3. Choosing Impact over Necessity = Sales Qualification
SaaS has become extremely competitive. Almost all the services sit on the same "cloud infrastructure."
They use a very similar color scheme, so competing can quickly become feature-to-feature combat.
It does not benefit the customer as they are often bamboozled into compensating for features they're never going to use.
Customer needs are not Feature A mapped to Need X; their inherent need lies under many layers of wraps.
Multiple meetings and calls uncover the real need. This impact determines what is nice-to-have and what is must-have.
Anyone who can get this answer from the client is the winner.
4. Event is critical over a timeline
In SaaS sales, we are more than often concerned with "By when do you need to have this…" or "What is the date for this service to go-live …" from which we establish a timeline.
However, the deadline is actually in reverse.
As an alternative determining when you want the P/O from the client, you need to address the clients' needs in mind – e.g., when does the client need the desired IMPACT? Then work your way back.
The key to finding a solution for this is to establish what the critical event is.
The essential question that needs asking the Sales Development Representative is, "When do you need this service to be on the air" following "… what happens if you miss that date?"
This simple question will determine if the event is "compelling" or "critical."

Accommodating BANT in the new regime
According to Jacco Van der Kooj, the challenges of using BANT in today's world.
1. Don't view the budget as a blocker
First, if you use a subscription model, the budget perhaps isn't a blocker for most businesses.
In the old days, when sales reps were selling licenses, it made sense to qualify in terms of business needs.

But now, most SaaS businesses charge anywhere from $50 to tens of thousands of dollars per month (at the very high end).
With the ROI your clients will see, price shouldn't be a huge impediment.
2. Recognize the importance of the problem.
Instead of identifying the prospect's financial plan, figure out how significant this problem is to them.
Are your clients highly driven to solve it? What are the consequences if they don't?
Is there a diverse initiative they care about more that will compete for their energy, attention, and decision-making wealth?
An inclination to act can often be a better pointer toward fit than budget.
3. Map out who's involved.
The second problem with BANT: A group rather than one person now makes most decisions.
An average of 6.8 stakeholders is involved in every agreement. Even if one individual signs the contract, you need to convince the bulk of their group.

Map out everybody who is involved in the process: The job titles, decision-making role, their primary concern, and how you can get access to them.
The more interactions you have, the more control you'll wield — and the less chance this opening will slip through your fingers.
4. Discover how quickly the business works.
You know the urgency of their requirement and who the decision-makers are, but how speedily does their business make decisions?

Recognizing whether you're considering at months of red tape and agreements or a simple one-pitch-and-a-close type contract can help you strategize your pipeline and ready yourself for the close.

BANT has lasted through the decade because it's practical, memorable, and applicable to an extensive range of products, price points, and sales practices.
Adapt it to your state of affairs, then ruthlessly target the best fits.
What's next?
The freshest sales approach for SaaS or PaaS products and services would be reversing the BANT approach so that what used to come at the beginning (Budget) is now last, and what was last (Time Frame) is currently first when evaluating a sales qualified lead.
The sales approach has now become TNAB – Time Frame, Need, Authority, and Budget.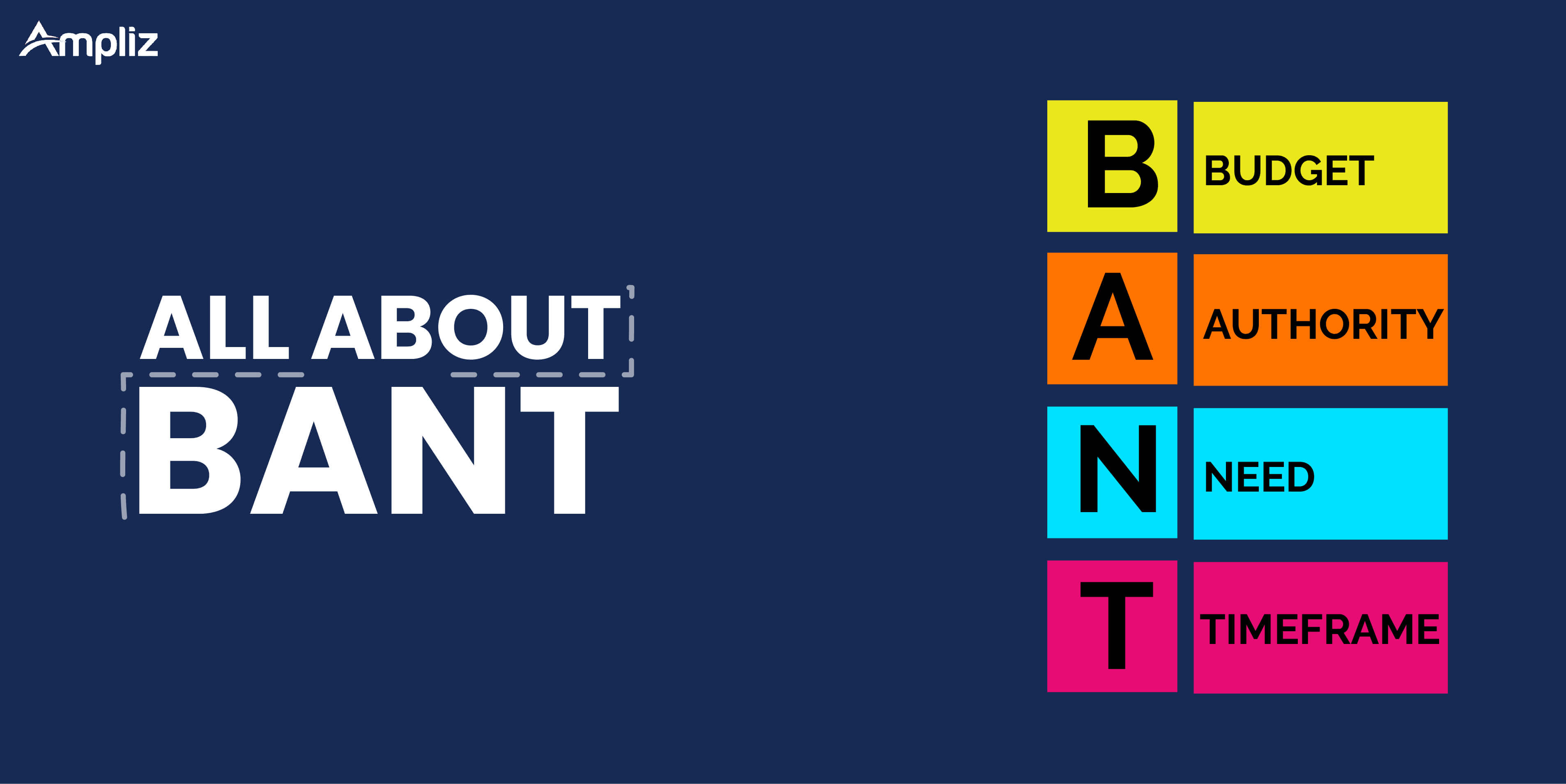 In the past, the timeline of sale was primarily concern after the deal completed.
Even IBM has acknowledged that only meeting the first three criteria (budget, need, and authority) is enough to make a sale.
The timeline was a deal-breaker only if the supplier couldn't provide the product or service on the customer's timetable.
But today, the time frame is the most critical lead qualifier; for SaaS companies, the most crucial compelling reason to purchase is the ability to deliver the SaaS product to the customer immediately.
If that doesn't knock out a customer off their feet, they probably aren't ready to buy.
Today, a relevant lead means the client is content with the idea that a SaaS product or service is instantly available to them and that they won't have to shove their purchase decision to a future date. Additionally, for businesses dealing with sensitive information, such as financial or legal documents, having a secure and easily accessible data room is also a crucial factor in the purchasing decision.
The next obstacle to overcome for qualified lead generation is to start questioning prospects to determine the suitable product or service that will meet the customer's requirements.
BANT qualified leads don't produce the same sales results as they did in the past.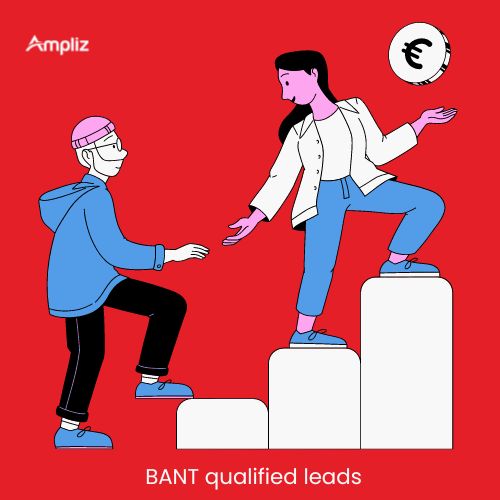 Introduction of the customer's needs third, after only knowing 'is there enough money' and 'who has authority to purchase,' has wasted enough time already as salespeople chase clienteles who are not 'qualified' to procure and fully utilize their products and services.
One key to fruitful sales is to recognize that not all qualified sales leads will be the right fit for every business.
If a company doesn't need a product or service, a lower price, a more significant amount of discount or more incentives will not tempt them to purchase.
Hurtling after leads that would be better aided by a competitor's offering is a waste of time for salespeople.
The timeline and Needs assessment can be accomplished in one sale call utilizing the TNAB approach because if the customers' needs aren't well-matched with the business's product or service offerings, trying to sell to them will not end in a deal.
The other aspect that needs attention in SaaS solutions is that some sales are made with no interactions with the salespeople.
More and more deals are done online. To these consumers, price is secondary to their need profile; needs identification becomes the single most central thing to that buyer.
If the info they need is not bundled and described well, the consumer won't be able to understand how the product or service could resolve their business requisite.
These clients are already at the point of being uncomfortable with their current situation and are actively seeking solutions.
Lead qualification doesn't have to be a clash between marketing and sales teams.
By reversing the BANT methodology where it first deliberates the customer's urgency (Time) for the product or service, and then how the business meets their requirements (Need), SaaS and PaaS salespersons can spend more time selling and less time upset with leads that go nowhere.
A 'backward' approach to BANT is a more sensible approach than qualifying on an ability to pay and who will authorize the purchase order.
Ultimately, shouldn't meeting the customers wants to be of precedence for every business?

Frequently Asked Questions On BANT
What does BANT stand for?
The acronym BANT stands for Budget, Authority, Need, and Timeframe. It is a sales qualification framework developed by IBM in the early 60s.
IBM states that BANT is an opportunity identification criterion.
When was BANT created?
IBM developed BANT in the early 1950s–the pre-transistor time when they sold computers (but were a room-sized calculator) weighing thousands of kilos and cost as much as buying a mansion— BANT was a leap forward in sales qualification methods (just as the vacuum tubes and COBOL computer technologies of the time).
What is the BANT methodology?
BANT sales qualification methodology is the one that helps salespersons decide if an organization is an ideal prospect.
If it is a good fit based on their budget allocated, internal purchase decision hierarchy, need urgency for the product and buying cycle.
What is lead qualification?
Lead qualification or sales qualification is the process of identifying sales/marketing leads as prospects depending on certain pre-set criteria like how frequently have they interacted with your business, etc.
What is the full form of BANT?
The full form of BANT is Budget, Authority, Need, and Timeframe.
Budget: What is the prospect's budget?
Authority: Does the prospect have decision-making authority, or is she an influencer?
Need: What is the prospect's business need?
Time frame: In what time frame will the prospect be implementing a solution?
What is the bant process?
The BANT process is a sales qualification framework that stands for Budget, Authority, Need and Timeline.
This method helps sales professionals to identify the potential customers who are most likely to buy their product or service by evaluating their readiness to make a purchase.
The first step in the BANT process is determining whether the prospect has an adequate budget for your offering.
In this stage, you need to find out if they have allocated funds for purchasing similar products or services in the past and if they're currently in a position where they can afford your solution.
The second step involves identifying the decision-makers within an organization who have authority over making purchasing decisions.
By doing so, you can avoid wasting time on people who do not have any role to play when it comes down to buying decisions.
Once you've confirmed that there is both sufficient budget and decision-making power, you move onto assessing whether there's a genuine need for what you offer.
You should ask questions about their pain points and challenges while gauging how well-suited your solution may be as a remedy.
Finally, timeline considerations must be taken into account. When will they be ready to move forward?
What are some of their other upcoming priorities?
Overall, using BANT allows businesses to focus on those prospects most likely ready and willing buyers based on objective criteria – rather than chasing after every lead indiscriminately with no clear path towards closing deals efficiently.