In this marketing world, there is fierce competition among businesses. Businesses should keep growing and maximizing their customer base to stay profitable. Are you reaching potential buyers and maximizing the customer base in your target market? If not, it is high time to access key data insights before reaching your potential audience or key decision-makers.
Why it is important to choose B2B data leaders in the Asia Pacific region
Though there are various social platforms, brand optimization strategies, and marketing resources, none of the service providers understands and provides you with a unique solution as per custom business requirements.
Hence, it is essential to choose leaders in APAC B2B data. APAC B2B data leaders have a robust marketing strategy to outsmart the competition and help you connect with decision-makers directly.
If you are running a B2B business and planning to launch or expand your business in the Asia Pacific (APAC) region. It is foremost important to have accurate and reliable B2B contact data. And lack a complete, reliable, accurate, and updated B2B email list, you will be losing more Asia Pacific (APAC) business opportunities and optimal ROI.
Why should you use a B2B email list?
A B2B email list leveraged the right way in your email campaign establishes communication and trust with potential prospects. Hence, more businesses have started to utilize B2B email lists from the top data intelligence providers to achieve marketing success.
Finding the targeted audience and keeping up the sales pipeline is the biggest challenge for many businesses.
Find the right decision-makers
Reaching the key decision-makers is quite a big challenge for sales leaders. Getting past gatekeepers and surpassing executives hold the key to B2B success, which is complicated and time-consuming. If you are looking for a beeline to reach decision-makers and get your sales deals close faster, it is significant to have b2B data intelligence.
Using Ampliz APAC B2B, you can effortlessly target the right business and people in your target market. Figure out the needs of your next future customers and start meaningful conversations with prospects.
Access the actionable B2B data insights and supercharge your outreach
Here are the top data attributes that will make you better prospects to your potential customers:
Demographic data: Demographic data is the most fundamental information to help you find the potential customers who fit the ideal customer profile (ICP). Demographic data includes Name, age, email, direct dial, location, business type, and more
Firmographic data: Firmographic data gives information related to business as a whole. Firmographic data allows you to better understand the targeted business type, business size,
Technographic data: Using Technographic data, you can easily find out the tech stack adoption and recent software usage
Geographic data: Geographic data help sales and marketing teams to target potential buyers based on their location, country, Zip code, etc.
Chronographic data: Chronographic data gives you access to company location shift, company funding status, acquisition, IPO, sponsored events, hiring, and exclusively more
How does APAC B2B email data help revenue operations teams?
Instant access to data: Ampliz gives you instant access to B2B email list, direct dial, contact data with many other search filters in just a few clicks. It takes you less than 60 seconds to sign up. Once after signing up, you can instantly access B2B contact in your targeted APAC region such as Singapore, Malaysia, Japan, Australia, and other Asia Pacific region.
Reach your total addressable market (TAM): Using the right B2B data, you can save time and resources by reaching the potential customers who are most receptive to your product and services. Reaching the potential buyers, you can generate sales and meet your revenue target for the upcoming quarter. Ampliz helps you pinpoint the right buyers who are likely searching for your solution and looking to connect with your sales leaders or account executives.
Connect with top buyers and decision-makers: Reaching the top 5% of the potential buyers is the most challenging process. Ampliz B2B data helps you identify target accounts and B2B contacts with ease. The Ultimate Goal of any business is to find and reach potential buyers. But many fail to get valuable insights and finally fail to reach the buyers. Using Ampliz data intelligence, you can quickly sort and find the customers based on their industry, location, and responsibility. Once you find the targeted audience, you can save the contact information and prospect to the right audience with ease.
Start meaningful conversations: Understanding the needs of your potential customer is key. To know their needs and demands, it is essential to have contact information and their buyer intent.  Access buyer intent data and accurate information to start your meaningful conversation. Leverage Ampliz data and personalize your outreach to witness 10X conversion. 
Generate leads: From sales prospecting to exporting data to clsoing deals, you can get this done using Ampliz B2B data. Tap into the power of 400+ Million business profiles and 200M+ business contact ibn the Asia Pacific region.
Why Choose Ampliz for the best APAC B2B data over the others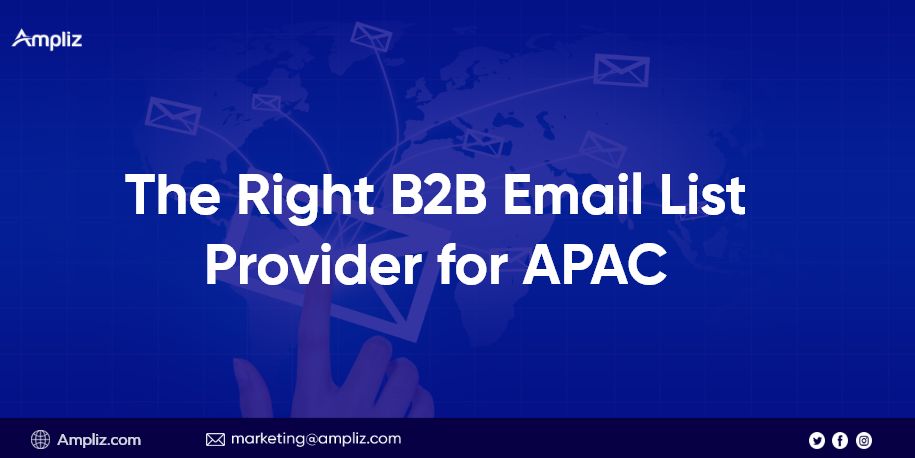 Easy to get started: Ampliz has a simple and easy-to-use interface to sign up and access data. Once done, click on set ideal customer profile. Select location, industry, employee size, seniority to personalize your target options. All set, you will get access to comprehensive data information.
Unlock 5 free data credits: Each free user will get 5 free data credits. Each data credit gives you the comprehensive contact information of a lead including name, email address, phone number, location, job title, company name, etc.
Global data coverage: Using the global B2B data, target B2B contacts and companies data in the US, the UK, Australia, Singapore, Malaysia, EMEA countries, and exclusively more.
Advanced data attributes: With Ampliz, you will get comprehensive data intelligence including First, Last Name, Job Title, Business Email, Office/Personal contact number, Social Media URL, Fax, Company Name, Hierarchy level, C/VD/M Executives, SIC, NAICS Codes, Industry, Employee Size, Revenue Size, Events Exhibited, Technology Categories, IT Budget, Company Infrastructure & a lot more
Personalized B2B contact data with direct dials: Yes. We understand your unique targeting requirements and offer customized data solutions to meet your specific needs. You can just filter and personalize data based on location, revenue, company size, SIC code, and others
Data compliant with international laws and regulations: All our data are compliant and strictly adhere to data protection regulations such as the General Data Protection Regulation (GDPR), California Consumer Privacy Act (CCPA), Anti-Spam law, and CAN-Spam act. We respect your privacy and thereby strictly follow the guidelines to protect your data.
Intelligent Data for Intelligent Business
Are you committed to maximizing your reach and boosting your sales? Ampliz's APAC B2B email list is the lucrative option that will connect you with intent prospects so that you can convert them into your customers.
Many marketing strategies today focus on running display campaigns online. But, no marketing practice matches the results an efficient B2B email list produces. If you're looking for the ideal way to grow your small business, consider giving an email campaign a try. An APAC B2B email list with high-targeted data offers effective results in the long run.
Transform Marketing with an Actionable B2B Email ListA B2B email list is a valuable asset for customer engagement. By using a B2B email list with reliable contacts of your business' intent prospects, you can add to your sales pipeline significantly. An email database with validated contacts gives you qualified leads that other advertising or marketing platforms struggle to match. With an authentic email list, reach the prospects who are likely to buy.
Harness the Power of Data-driven Marketing
Anyone can deploy a mass mail. By pinpointing and narrowing down the targeted audience and sharing a personalized message, you can:
Engage reliable prospects by proposing the right solution for their business.
Offer sensible and meaningful messages that are relevant to the prospective customers.
Filter your contacts country-wise, job, wise, industry-wise, and many more search filters.
APAC B2B Data You can Trust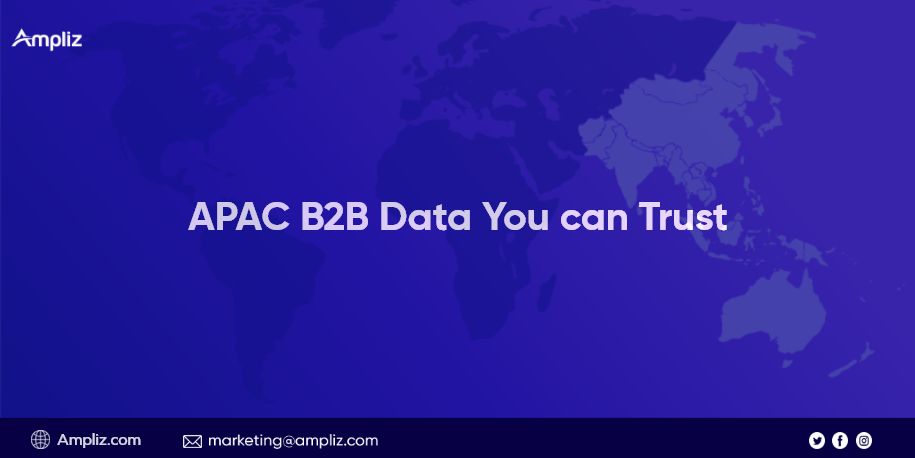 Get your custom-centric B2B database based on your campaign requirements and discover multiple opportunities. Ampliz's APAC Email list is sourced and refined by data experts. Here are some steps that make the data completely reliable.
Data Compiling: Our data experts offer a tailored list of the responsive audience that best fits your marketing campaign. Our data gets collected from hundreds of credible sources. Besides, all data is compliant with GDPR compliances and all data policies of the region.
Validation and Verification: At Ampliz, we conduct a two-step data verification process to remove outdated entries and obsolete contact information. Our B2B data is frequently verified and updated by data experts. We also help add missing contacts to your existing data and also offer personalized email lists. Thus, helping you in all possible ways.
Data Enhancements: If filling up the missed contact information is an art, we are the artist! An efficient database accounts for changes in phone numbers, email ids, job switches, etc. We update our APAC email lists in near real-time.
Intelligent segmentation: Customer requirements vary, and therefore, a standard message can be a hit or miss. Ampliz provides a segmented B2B email list with unique data points and various data attributes as per your marketing requirements. A detailed, comprehensive, and well-structured email list helps you know the prospect's intent.
Planning Next Marketing Campaign in APAC?
Instant access to data: We at Ampliz, provide an easy-to-use interface to sign up and get started. It will take less than 60 seconds to access the data and unique data attributes we offer.
Talk to our experts: If you have any clarification or require further information, our data team is available 24/7 to support you.
Get reliable data: Using the accurate and authentic B2B data, you can directly initiate your email campaign, telemarketing campaigns, and direct mailing to win more sales and leads!
To know more, kindly reach our data experts at [email protected] or [email protected]