2021 has given us enough hints to start our own businesses, and not to specifically rely on any source. It has taught us the lesson to overcome the biggest hurdles smartly. It has taught us how to transform a problem into an opportunity.
The upcoming year can be a mystery box of shocking surprises for which we need to get prepared. Here we will be talking about the best business opportunities in 2023 that have the highest probability of getting successful amidst all possible upcoming challenges.
To fight this global pandemic, and also other diseases, if you are planning to start your healthcare business, then we must say, you have landed in the right place.
The Covid-19 pandemic has twisted all the possibilities of everything and has affected many organizations all over the world.
People have locked themselves inside their houses to prevent the spread of the germ.
In this situation, starting a healthcare business will serve as a blessing for the people who are running out of medical facilities and for yourself as well.
The healthcare industry is constantly growing. With the increasing consciousness among people regarding health and the need for healthcare products and services, the healthcare world is ready to step out and become one of the most promising sectors.
If you want any healthcare business ideas in 2023, here we have a list for you.
There are many small and young healthcare business start-ups, there are moderate healthcare businesses and also large-scale ones.
So, if you are ready to go ahead with your mind and heart, now is the correct time.
Following are the best 5 trending healthcare business ideas that will provide you with opportunities and plans for your business.
A Home Healthcare Company
Retail Pharmacies
Digital Healthcare
Fertility Centers
Polyclinic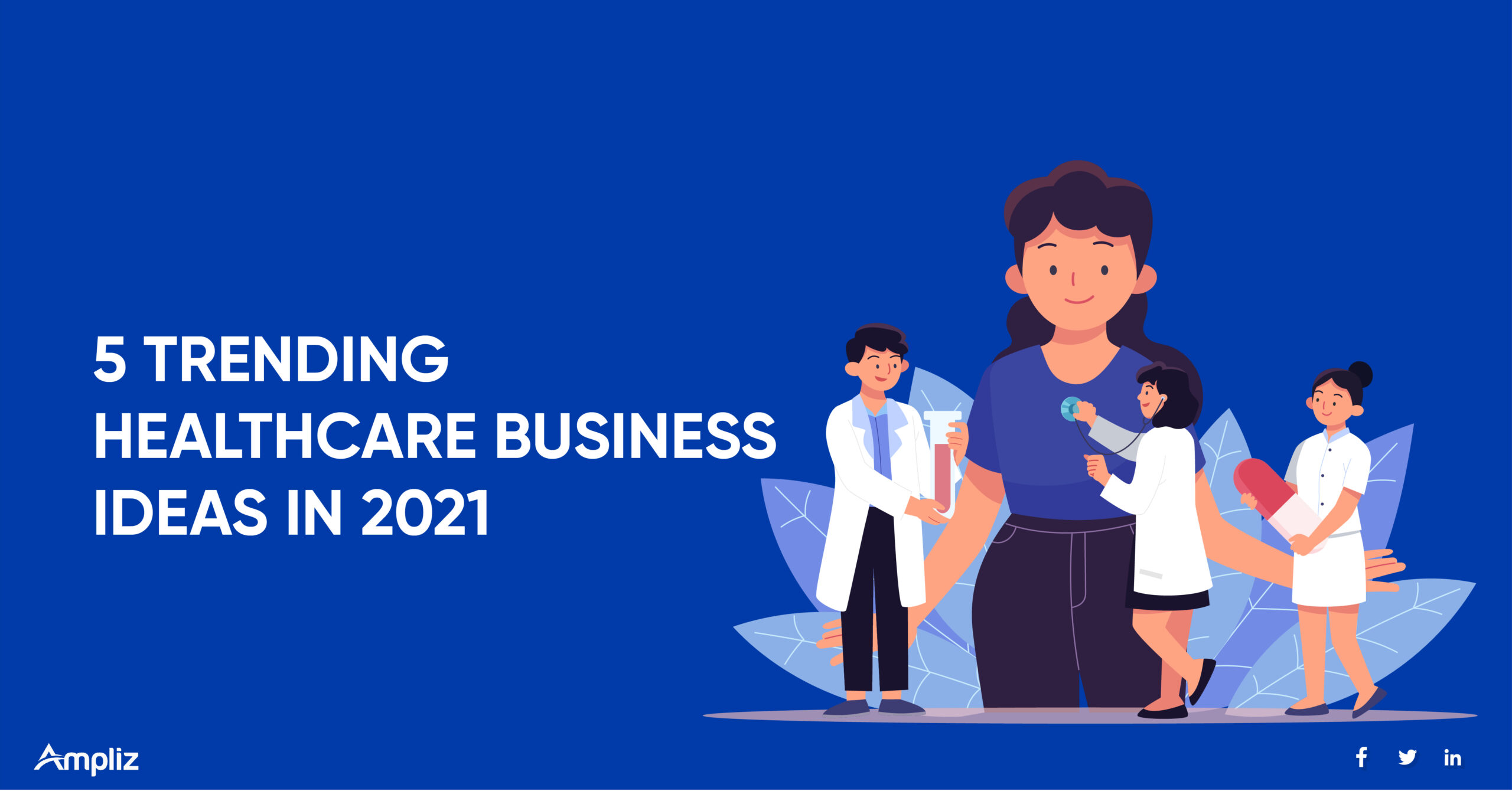 1. A Home Healthcare Company
There are many people who prefer to receive services from the comfort of home. The elderly people, who seek for nurses to take care of them both day and night, need these services.
If you are planning to go for this kind of business, you can do it with a minimum investment, since it is a service-based industry.
You also do not have to worry much about the profit because it remains quite high and maintained in this business.
There are many organisations and companies who constantly venture into this business.
Home healthcare services includes a wide range of services such as:
Nutritional support
Medical social services
Nursing services
Basic assistance care
Pharmaceutical services
Speech/ occupational/ physical therapy
The services that a patient can receive staying at home, is limitless.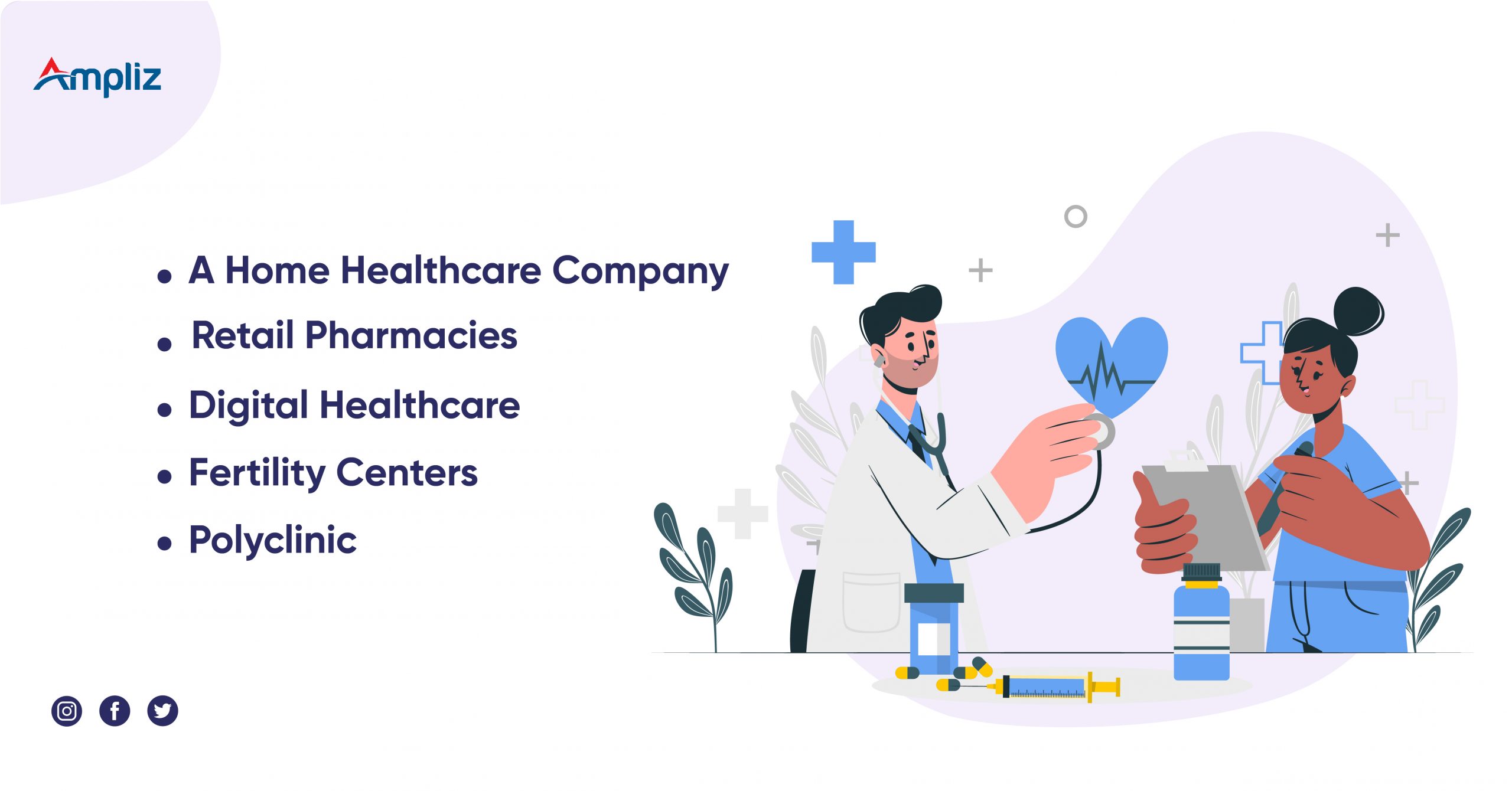 2. Retail Pharmacies
The fastest way to start and grow a healthcare business is by setting up a retail pharmacy.
Presently, it stands as the most profitable as well as a successful business on the list.
If you are interested to start this business, then you should take a look at the Retail Pharmacy Business Regulations because it will help to lead you to find the best collection, marketing style, and inventory.
Location is a very important factor in this type of business. If you get to set your retail pharmacy near a hospital and somewhere, where there are many healthcare clinics because you will get the majority of your customers in one place.
Invest a little to get a lot more.
Follow the measures listed below to succeed in your retail pharmacy business:
Focus on upselling
Do deep and thorough market research
Place the most used products nearby
Try to develop strong customer relationship
Try to create a mobile application
3. Digital Healthcare
Digital healthcare is becoming a very crucial part of every healthcare business idea in 2023.
This pandemic has caused most of the people to do various things staying at home and most of the people have chosen to medically treat themselves to stay back.
People are extensively using their phones, laptops, computers, tablets, etc., for different healthcare purposes such as:-
Fixing appointments with doctors
Deciding on a date for clinical testing
Booking some physiotherapy session
Getting to know their prescribed medicines
Many healthcare businesses are adopting digital healthcare and facilities related to telemedicine.
It helps people maintain social distancing and makes it easy for everyone to access it from any corner of the world.
People living in remote areas often face problems while connecting to a doctor or while purchasing any healthcare product.
Through telemedicine, these people can receive medicines and communicate with doctors in a more efficient and faster way.
4. Fertility Centers
Due to the present situation many young couples out there, who are facing difficulty in conceiving, are looking out for trusted fertility centers.
It is a very important part of the whole healthcare system and it is profitable as well.
The best part of a fertility center is that it is long-term, thus, your business may turn to become more profitable in the upcoming years.
This industry which was once considered to be boutique and niche is ready to affect the whole mass market.
You can include the two most common fertility treatments, that are:-
In vitro fertilization (IVF)
Intrauterine insemination (IUI)
Cryopreservation
5. Polyclinic
Polyclinic is gradually becoming popular in the world of the healthcare business.
A polyclinic serves as a healthcare facility for both specialist and general treatments or examinations for different kinds of diseases.
It is used widely by outpatients. It is generally independent of a hospital.
People undergo several medical tests, healthcare check-ups, and even consult a doctor.
Everything that your customer needs are under one large roof. So, it becomes very easy for everyone to use the facilities and treatment.
Since it is very service-oriented, it serves as a very high-return business.
Your polyclinic can deliver the healthcare services that are listed below:
Cardiology
Gastroenterology
ENT
Dermatology
Neurology
Surgical/ Medical Oncology
Psychiatry
Urology
Orthopedics
Respiratory problems and Tuberculosis
Fitness centers have also become a wild attraction for most people.
Everyone has become health conscious now. Work out and body fitness are the top buzzwords among everyone.
All the age groups, starting from the adolescents to the aged ones, everybody looks for a fitness center and gymnasiums.
As a healthcare business idea, a veterinary clinic, is an excellent one. Providing proper healthcare services and treatment to animals will always remain golden.
With each passing day, the number of pets is increasing. Your veterinary clinic will be very much on demand because people will be coming to you with their pets for initial vaccinations, and treatment for any disease.
Your business will see rapid growth in a small span of time. If you are planning to set up a quick return business, opening a veterinary clinic is a good option.
Find a good location for your clinic and start right away.
In the present situation, health care is a very prioritized sector.
The pandemic has built up the perceptions of customers and their behavior that has radically changed the whole process or system of healthcare.
There are high expectations from emerging entrepreneurs and other healthcare businessmen, to start introducing the new ways and models to start a healthcare business of their own, which will not only help to cope up the with the pandemic that we all are in but, also develop and maintain the healthcare systems.
We have tried to jot down for you the best ideas for your healthcare business in this present year.
If you have more on your mind related to any healthcare business ideas in 2023, then kindly do share with us.
To know more about such insights regarding the healthcare industry, its latest hacks, and usage trends, do visit our blogs.
Do not cut out our Contextual Healthcare Intelligence Platform from your list, because you will find the best-customized healthcare data here.
To know more about us, visit and Ampliz or feel free to reach out to us at [email protected].