Business development or sales can be classified into 2 broad categories: B2B and B2C. Although some business models include D2C (direct to customer) or B2B2C, the aforementioned two are the most common. B2B sales and B2C sales have more differences than similarities, though the ultimate goal in both models is business development.
Whether you are an industry veteran or a newbie looking to gain some knowledge, you have landed at the right spot. In this article, you will learn the fundamentals of business to business sales and how you can put them to practice. Selling to b2b customers can be a tough proposition and many times, it can feel almost an impossible task.
The dynamics of sales has changed as the salesperson is no longer the main element of the buying process. Today, customers have become much aware and do their own research to buy a product of their choice without any external influence.
To make the process easier and help salespersons sign new deals, we present the dynamics of contemporary b2b sales. But, before moving ahead, let's take a look at what exactly is the meaning of b2b sales.

B2B sales meaning
B2B sales (business to business sales) is the process of selling product(s) and/or service(s) by one business to another. This is different from B2C, where a business or salesperson sells to consumers.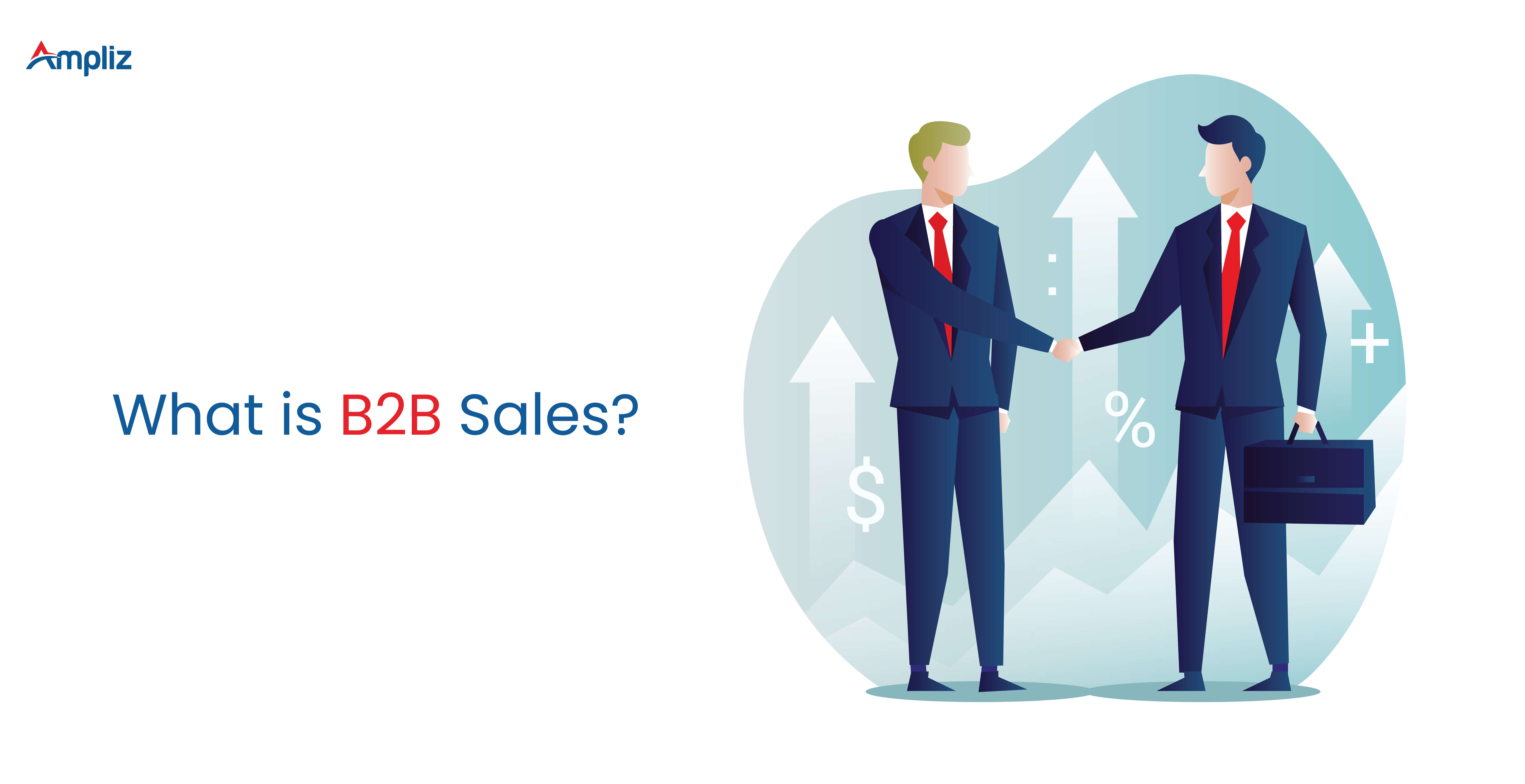 Whereas in B2C, a sales professional sells a product and/or service(s) directly to a consumer. Now with the advent of eCommerce, a segment called D2C came into existence. D2C, direct-to-customer, refers to activity where manufacturers can sell directly to consumers via an eCommerce website. on platforms like Adobe Commerce (upgraded Magento).
It is a much more complex process that the B2C (business to consumer) sales. The B2B salespeople have to sell the products and services to professional buyers who know how to get the best deals for their companies.
Further, B2B salespeople also have to pitch to the key decision-makers, which might take a lot of convincing, especially if they are in numbers.
The B2B sales process typically consists of two types of sales. The first type basically consists of selling products that help meet the requirements of running a business. This would include regular office equipment or supplies.
Quite similar to the B2C process, the customer here would have a lengthier buying process as there would be a requirement of getting the necessary approvals from the authority. It would be a long process if the product or service is expensive and the number of people involved is more.
The second type of B2B sales process involves selling products that will be used in the manufacturing process of a product at the buyer's end. An example of this would be the supply of fruits and vegetables as raw materials to restaurants.
The supply chain here would be a wholesaler selling fruits and vegetables to restaurants that would use them and sell delicacies at a higher rate. B2B sales usually are very challenging than B2C sales as the cost of products and services involved is here is significantly higher.
This also helps B2B sales professionals earn more than their B2B counterparts as the accounts are bigger and so is the commission.
B2B vs. B2C
Greater mean sales value
While the number of B2B sales transactions can be less, however, an SMB's order of toiletries can often be worth thousands or millions of dollars.
Avery few specific B2C companies — in real estate, automotive, and luxury goods industry — this isn't the case
Lengthier sales process
Apart from the 3 B2C industries stated above, B2C customers base buying decisions on sentiments and quick, fleeting desires: A headphone, A phone case, or a gaming laptop.
B2B buyers, however, are most of the time look for a tangible ROI, a quantifiable advantage, or a logical answer to a critical problem.
They must also get the approval of multiple decision-makers.
Multiple interested parties
In B2B sales, each choice affects the business's bottom line, and buying decisions ascend the hierarchy of sanctions.
It means a mutual affirmative decision from all the decision-makers comes before a successful transaction. Higher the worth of the sale, the higher the number of approval required.
Sophisticated buyers
B2B buyers exercise judgment. Not only are they choosy about whom they do business with, but they're also fashioning their acquisition criteria deprived of the help of salespeople.
It is the reason why content has such importance in the B2B sales process.
B2B Sales Process
While B2B sales are complex than B2C sales transactions, many of the same procedures also apply to the B2B sales process. To be an excellent salesman, B2B representatives still need to get prospects, initiate communication, get the product or solution before the customer, and conclude the sale.
Step 1: Do the research
An excellent B2B salesperson has to know their market, their competitors, and who their ideal customers are. They also need to understand how their product or service suits the market and what is the value they propose.
Step 2: Find your clienteles
The second step of a successful B2B sales process is to find your potential consumers, i.e., the decision-makers that have authority and budget to purchase your product or service.
You'll also need to evaluate and qualify your prospect, make sure they have the need, the interest, and the budget to purchase — to guarantee that they are suitable and viable fit.
Step 3: Conduct your preliminary outreach
Now that you have know-how about your market, your competitors, and your ideal buyers, it's the right time to get in front of them. There are different ways to do it that includes social media, also called outbound marketing.
You can have a company blog filled with compelling content that appeals to readers who turn into customers (also called inbound marketing).
Examples of direct marketing would be an email of an informational brochure, or even cold-calling a lead and set up an in-person meeting. If you use direct marketing in your sales strategy, have follow-up emails as subsequent action after it.
Email marketing tools like Klaviyo can aid you in sending emails in batches, as scheduled communication, and provide representatives with email analytics and sales analytics for open and response rates. However, if you're just starting out, Klaviyo may be a bit too pricey for your budget. In that case, you can check out these Klaviyo alternatives.
Step 4: Pitch to your prospects
B2B sales reps need to get before potential consumers to let them know why and how their product or service is a solution to their problems and make the offer. It's also an opportunity to learn about the customers and their needs.
Pitching should is the most time and energy-consuming activity of all the steps in a B2B sales process and tailor each sales pitch for every individual prospect.
Step 5: Ensure Follow up
Depending on the customer, B2B sales representatives should send over a business proposal or statement of work as discussed, soon after the pitch meeting to put in writing everything.
Step 6: Sale Closure
If you've made it so far, this should be effortless. The customer wants to purchase your product or service; now, you should get it in writing.
If there's any hesitation in closing the sale, find out the concerns of the customer, address them, and find a solution — perhaps an additional meeting or a product demo.

Why is B2B sales hard?
The truth is that B2B selling is different from B2C selling; however, it's challenging, for the following eight reasons:
1. The B2B buyer is more sophisticated than B2C. For instance, because the Web makes relevant pricing information publicly available and easily accessible, it is not at all very few and far between for a buyer in a B2B deal to understand more about the product category and the competitors than the sales professionals who are striving to sell that type of product.

2. The stakes are much higher. B2B buyers and decision-makers draw a better salary than one in B2C sales- often draw quite high pays – to understand what they're purchasing and for the know-how of the usage. They can lose professional points and get sacked if they make an incorrect decision, something that under no circumstances happens when a consumer purchases a product.

3. B2B selling requires more awareness than B2C sales. It's not enough just to appreciate a product and be able to introduce it coherently. B2B selling involves diagnosing a buyer's challenges and then approaching with a tailored solution that may very well encompass a long-term business partnership.

4. B2B selling demands better people skills. When customers purchase a product, characteristically, there are only one or two decision-makers concerned (like a husband and wife). Corporate procurement decisions can involve a lot of decision-makers, influencers, stakeholders, and nay-sayers.

5. B2B selling involves more patience than the B2C sales process. While even "big-ticket" consumer sales can take a day or a week, many B2B deals take weeks and months of intermittent action, meetings, phone calls, back-and-forth papers, and all the politics and coaxing that characterizes large bureaucracies.

6. B2B selling is more responsive to the financial system changes. One of the many things that happen in an economic crunch is that organizations lock down their procuring, add more levels of decision-making, and demand concessions from their vendors even for the already signed deals. Such tactics cause distress even to the best-designed sales campaign.

7. B2B selling involves enormous sums of money. In consumer sales, million-dollar deals are uncommon and limited primarily to superfluity home sales. In B2B selling, by contrast, agreements that involve millions of dollars are so commonplace as to be almost inconspicuous. Even billion-dollar contracts are struck from time to time.

8. B2B selling not aligned with Marketing most of the time or vice versa. The issue is that several marketing experts can't get their heads around the preceding seven reasons and assert that they can use techniques from Mad Men.
How has B2B sales changed in recent years?
In the recent past, a B2B sale was a relatively more manageable process. The buyers would simply reach out to the seller, whose salesperson would educate buyers and present them with the best solutions to suit their requirements.
Upon getting convinced, the buyer would simply purchase the product. In a very straightforward process, the marketing teams would fill the sales funnel with leads, which would then be acted upon by sales teams by converting prospects and pushing them down the funnel into a transaction.
However, with the advent of technology, the times changed, and people have to choose from too many options. It has made life tough for B2B salespersons. When buyers identify their problem, they will first research online about to discover possible solutions.
They might read recommendations online, reach out to their friends, search for answers on forums and social media, and other relevant channels. Further, they might also look for offers and discounts while searching for products and services as their solutions.
Their buying decision will most likely be made only after following all these steps. Lastly, they would reach out to the buyer to complete the sale.
It has also led to businesses adopting new ways to purchase products and services. Research, in terms of online recommendations, peer reviews, Google search, is a vital part of their decision-making process.
Buyers have a lot more options in terms of free trials, forums, websites, social media, and various relevant sources. It makes up for a significant part of the buying process, which does not require the involvement of a salesperson.
It has changed the roles of marketing and sales teams, and the former now has a broader role to play in the sales process.
Sales teams are must-have in the later stage of the sales process in terms of helping the buyer make the purchase. It brings along with many challenges that the present-day B2B sales teams face.
The emergence of modern-day buyers
The advent of digital technology and changing demographics has led to many younger professionals occupying the prime position in the decision-making process at many businesses.
These younger professionals, between the age groups of 18 and 35, have more inclination to use digital technologies when they have to make a purchase. They will conduct the research themselves and use the wealth of online knowledge to make their life easier.
More buyers are shifting to doing online research before making a purchase, a trend that will only grow in the coming years.
Traits of modern-day buyers
Lack of connection between sales and marketing messages

Buyers these days dedicate more time to conduct online research rather than focusing on salespersons because they concentrate on spreading their sales agenda instead of solving the genuine problem of the buyer.
The main aim of most salespersons is to focus their time on selling rather than helping the buyer in the purchase process. Salespersons who genuinely listen to the needs of the buyer and help them find a solution receive sound responses.

Social selling is crucial, and it can help sales teams perform much better in the purchase process as it can meet the specific demands of the buyers. The buying process is already long due to several tools at the disposal of a buyer.
The enormous amount of online information and involvement of more people in the process has led to this change. Connecting with buyers on a personal level and solving their genuine problems will be essential to move quickly with making sales.
Emphasis on peer recommendations
Google has very much simplified everyone's life and there is a wealth of information about anything and everything. Social media and other review portals contribute a lot in influencing the mind of a buyer. Word-of-mouth still remains a powerful recommendation tool and can easily override other factors like online reviews.
Awareness about risks
The modern-day buyers are well aware of the risks associated with making a wrong purchase decision. They want to avoid post-purchase dissatisfaction by using several recommendation sources at their disposal.
They also have this fear that they might miss out on other sellers who would give them better offers. The B2B buyers have much more responsibilities and need to keep several things in mind like professional credibility, financial investments, etc. when making a purchase.
4 ways to strategize B2B sales techniques
Strategizing a sales approach is vital irrespective of how good effective the product or service is. The difference between making or missing out on a sale could be the number of decision-makers you manage to impress in the shortest time. An effective marketing strategy can do it. You can follow these B2B sales techniques to get your sales strategy right.
Study your buyers

Studying and have a profound understanding of the profile of your buyers is very important because not every prospect is a good prospect. Bad prospects will not convert, and you could end up losing your valuable time chasing them. It can't be very time-consuming to research your opportunities, especially if you know these vital points to keep in mind while studying them.


Understand their background
Read their vision, mission, and values
How large is the scale of operations
What value do they offer
Identify the decision-makers

Figuring out the key decision-makers will save a lot of your time and it's not very difficult to find this information. A simple search on the prospect's website will help you figure this out. Make sure to approach people who have been around for a while instead of newbies as they won't have much influence on the decision-making process.
Learn their problematic areas

You can study their existing issues and propose solutions that will genuinely solve their problems. If they are using some service currently which is not working, you can propose better alternatives.
Focus on building relationships

The B2B sales process is long, and building trustable relationships will be essential for success. A good relationship will allow your customer to open about other areas of their business and also recommend your services to others.
Make effective use of digital tools

Since buyers today use the Internet to research and aid their buying decision, it makes much sense to have a solid presence on digital media. You can start off with building an effective website, engaging social media presence, and having a content and email marketing strategy in place.
5 valuable B2B sales software
LinkedIn Sales Navigator
Ampliz SalesBuddy
PeopleFinder
Leadboxer
ClearSlide
Campaign Monitor
Hubspot

Final thoughts
Business to business sales process is a complex task and it will only become difficult due to the involvement of many decision-makers, availability of a lot of online information for buyers, etc. However, you can use these B2B sales techniques to effectively design your B2B sales strategy and win customers.