CEOs are the top ranking profiles in an organization who play an important role in making corporate decisions.
They are busy hopping from one meeting to another, and the best way to reach out to them is via email.
This is the sole reason why B2B companies are worried about how to find CEO email address online.
Why should you Find CEO Email Address?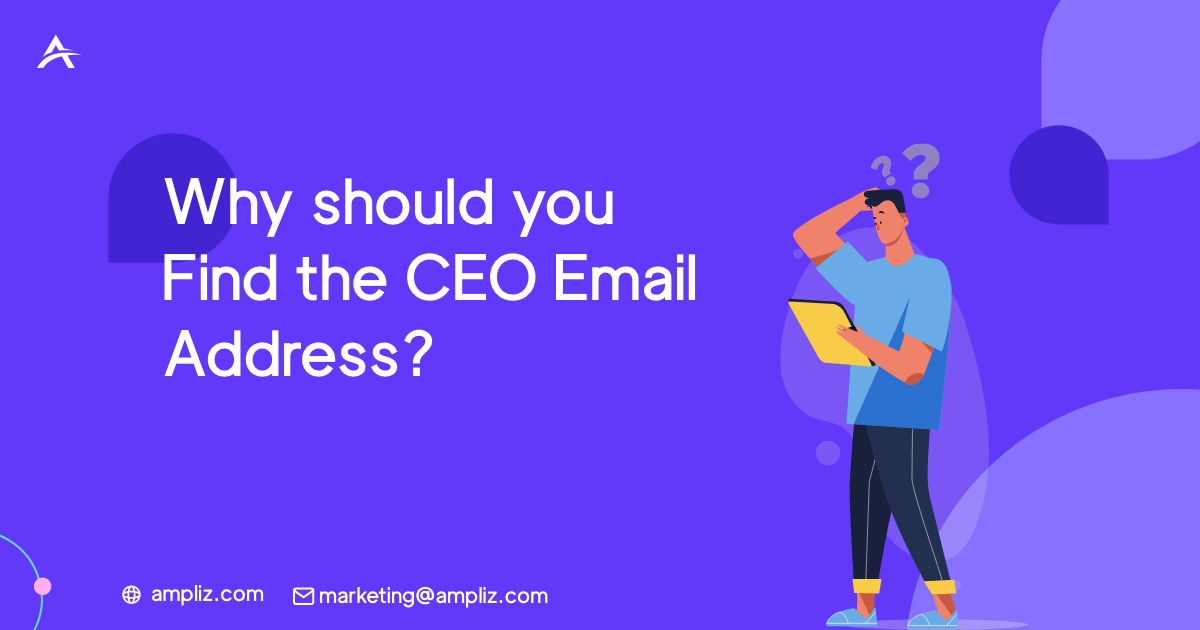 As talked earlier, Chief Executive Officers (CEO) are occupied and they do not have time to go through various messaging apps, especially LinkedIn. Maybe, they reserve these tasks for weekends.
Moreover, they have hundreds of messages pending on LinkedIn, and yours might get lost amongst the hundreds.
Keep in mind that people use their personal email addresses to create a LinkedIn profile.
Therefore, when you connect on LinkedIn, you can access only their personal email addresses. And, they do not like to use personal addresses for business communications.
Reaching the Chief Executive Officer with the help of a business email address is an effective way to get responses and outcomes for B2B marketers.
Get the CEO Email Address of any Company by filling out this form
3 Ways how to Find CEO Email Addresses for Free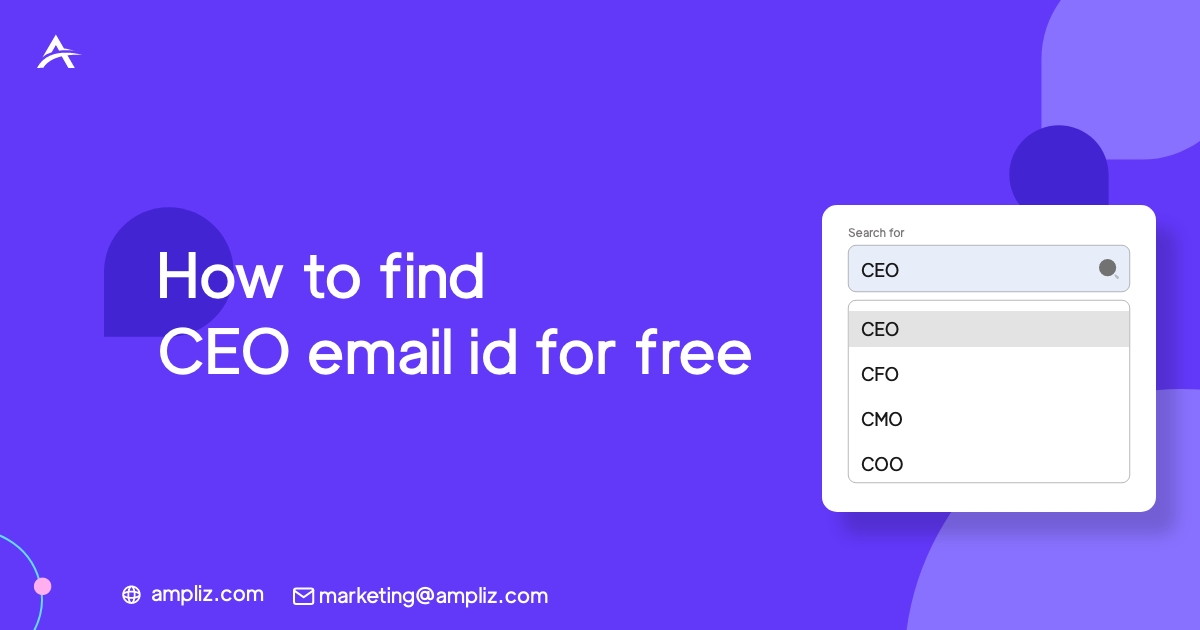 Want to learn how to find a CEO email address?
Here are 3 easy and effective ways for marketers to leverage for finding email addresses for CEOs in the company targets by name and company name.
1. Use common email patterns
The smaller companies with executives from 5 to 10 – 20 or to 50 tend to have email addresses in a certain pattern.
So, if you are trying to reach the CEO of such company, it is likely they follow one of the following patterns:
So, you can use the following email patterns:
As you can see adding certain CEO related words or company-related words aids in attaining an email address.
After curating the email address, you can verify if the email address is valid or not from various online tools available.
Also, when you write an email, always ensure to address it to the CEO's name. When the company gets the email addressed to the CEO name, they will forward it to the CEO.
And, when an executive sends an email to the CEO, he will definitely read the message.
Remember, this is your golden chance that you need to make the most of by getting your message across.
Some of the company's CEOs use either first name or last name as their email address.
This is because CEOs are generally the first employees of the company. Here is the pattern that you can give a try to:
2. From the Internet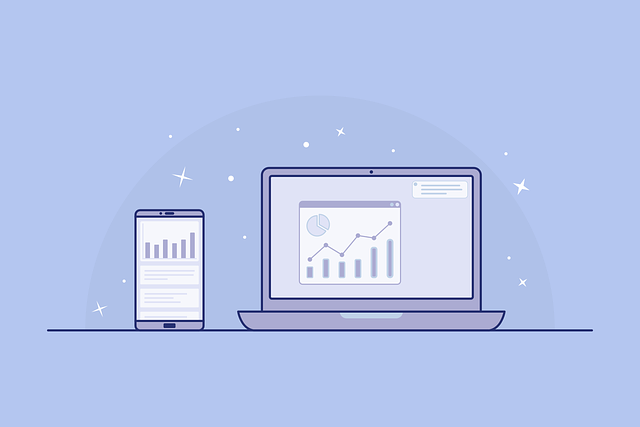 The Internet is the vast platform where every information is available, so how difficult would t be to find a CEO email address.
As a company, you can hire resources and executives to sit and spend hours on the internet on various online sources.
For instance, online directories, social networking sites, professional networking sites, corporate websites, some user ground and others that have CEO email addresses.
And, in order to get the email address, the executive needs to visit all the possible sources manually.
It is crucial for your executive to leverage all the available resources and have a knack for research skills, Boolean Search techniques and be aware of the Google Search scripts to comb through all the websites and find the email address.
However, it will definitely take time and a lot of effort to find the email addresses manually; so be cautious.
3. From Email Database
The best way to have a validated, verified and reliable set of email addresses is from a refreshed and updated email database from a third party. The CEO email address can be purchased from any database provider.
Ampliz is the leading source of the database with thousands of databases available for use in a click.
They deliver a database that includes all the information on an individual like name, contact number, email address, city, state, region, pin code, and other 30+ attributes.
Research says that about 20-25% of data acquired from the third party database becomes unusable. And, this is why Ampliz ensures to keep the email database refreshed and updated at all times.
The email database is verified by the data experts to record information as per the real-time information.
How to Find CEO Email Address Manually?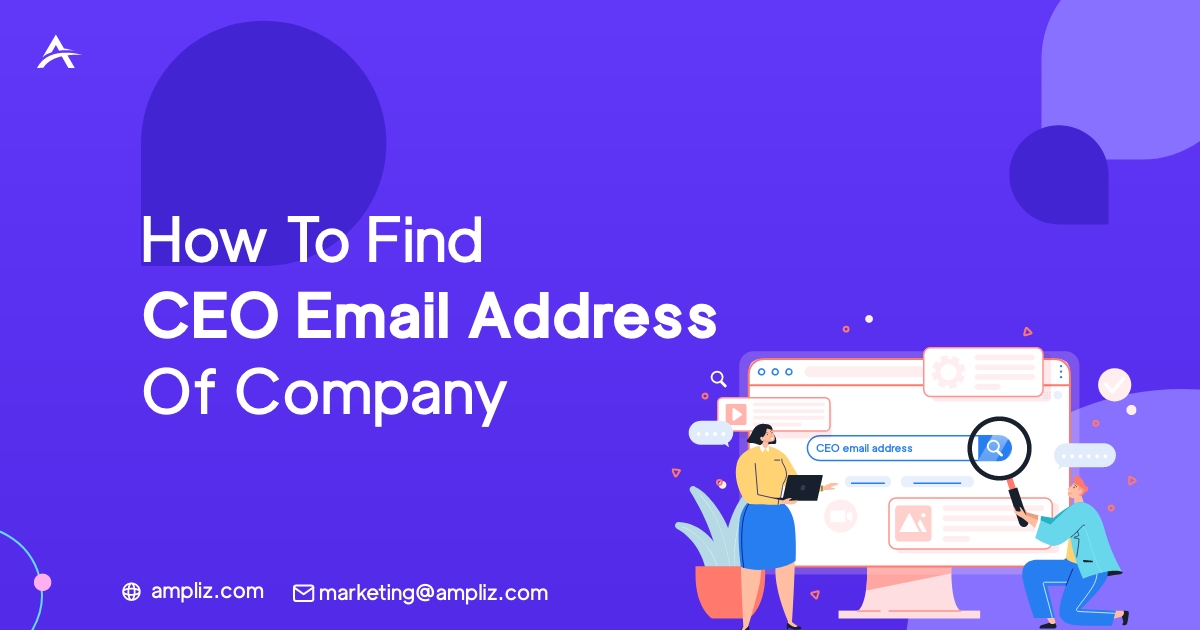 Want to find the CEO's email address manually? You can start with finding the Chief Executive Officers in your target.
Then, you can visit the website, scroll through LinkedIn profiles, and look for their email addresses from the company management page.
However, this is a laborious task that can take up effort, time, and resources.
Even on LinkedIn, you might find the Chief Executive Officer of any company– based on geographical location, industry, revenue, company size, and so on.
Connect with them and further proceed to pitch about asking for their email addresses.
Get your sales appointment. But, this is not as easy as it sounds. It will take time as it is not easy to find the email addresses of the CEO.
How to Find CEO Email Address Online?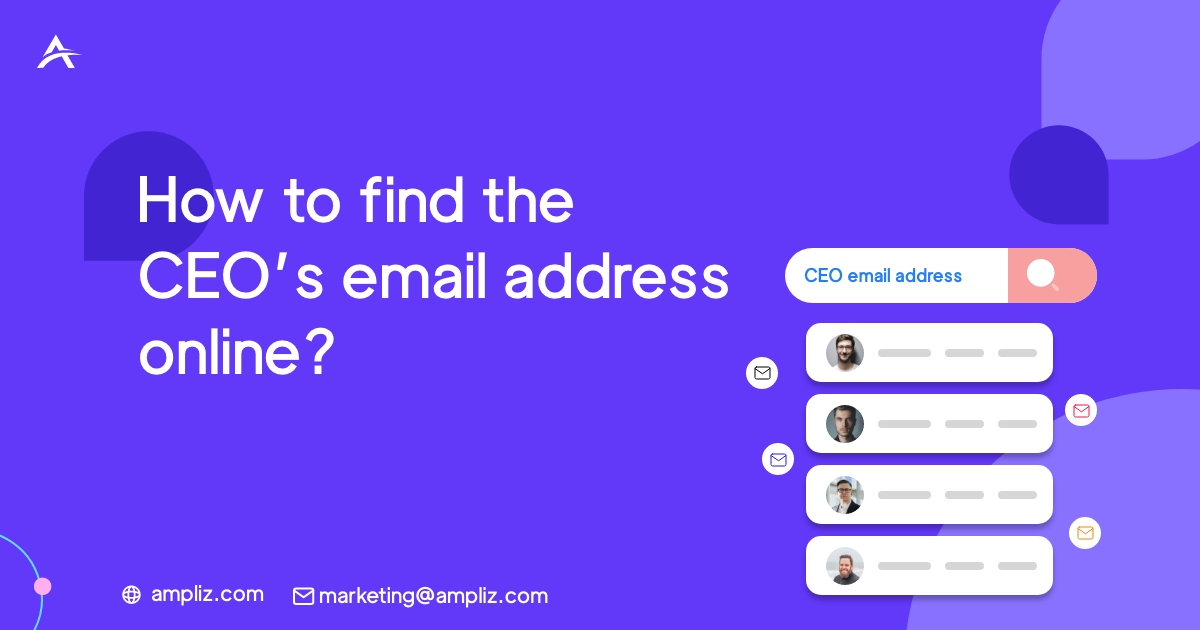 Unfortunately, finding a CEO email address is not as easy as just finding it on the websites, LinkedIn, or other websites.
All you are left with is the name of the company and the name of the CEOs of the prospects. But here is the easiest way to find a CEO email address in less than 60 seconds:
Go to Ampliz and import the list of contacts for the CEO.
You can instantly find and display the verified and updated company email addresses of CEOs.
Conclusions
Finding a CEO's email address can be tricky, but with the right tools and strategies you should have no trouble doing so. With the help of online resources such as LinkedIn and search engines like Google, you can easily find out who the CEO of a company is, then use that information to locate their contact details.
By implementing these methods into your research process, you should make finding a CEO's email address much simpler. Ampliz is the B2B data provider offering you CEO email address to market your product to the right decision makers.
FAQs On CEO Email Address
How to Find Email Addresses of CEOs?
Ampliz is a powerful tool that quickly and easily allows you to find email addresses of CEOs. With just a few clicks, you can discover the emails of top executives in any company.
Our advanced search feature goes beyond basic search parameters to uncover accurate emails even in cases where other tools are unable to do so.
Whether you're looking for prospects or existing customers, Ampliz makes it easy to reach out directly with the right contact information.
How do I contact the CEO of a company?
The best way to contact the CEO of a company is by writing a formal letter or email.
You should research the company first, make sure that you have the right information about the CEO, and explain your purpose for contacting them in the letter.
Additionally, you might be able to find contact information by looking through their website or social media accounts.
How do I find a Corporate CEO Email Address?
Find CEO email address can be a difficult task. But don't worry, we have some tips to help you out.
One way is to look up the company website and search for an "About Us" page that may contain a contact list with the CEO's email address.
You can also do a search on LinkedIn or other social networks to look for the CEO's profile and see if they have listed their email address there.
You can also use specialized tools such as Ampliz Salesbuddy to find emails based on name or domain.