Table of Contents
Selling becomes much easier when your products meet the demands of your target audience.
And that's why the first and foremost thing when it comes to nursing homes marketing strategies is to get to know nursing homes, i.e. their market value, their future, what products they require, etc.
So before hopping onto nursing homes marketing strategies, let's understand the Nursing home industry a bit.
Let's get started with different types of nursing homes which will introduce you to the market of the nursing homes industry.
Types of nursing homes
So basically nursing homes refer to healthcare facilities that provide residents with a range of services including:
Nursing care
24 hours supervision
Three meals a day
Assistance with daily living activities such as bathing, eating, walking, dressing, using the toilet, etc.
On the basis of the types of services and duration for which residents reside there, nursing homes can be divided into four types. Let's see which are they.
1) Board and care homes
These services provide three meals, 24*7 on-call staff, assistance with ADL, etc, But these facilities don't provide medical services.
2) Assisted living communities
They vary in size and are designed for people who are somewhat independent but require assistance in medication management, housekeeping, or laundry.
3) Skilled nursing facilities
This is the kind of nursing home that provides acute medical facilities, 3 meals, and 24×7 medical assistance.
4) Continuing care retirement communities
These are known as life care communities, which provide various levels of care in single campuses namely independent living, assisted living, skilled nursing, etc.
In this community, people can move from one level to another as their situation changes.
As per the report, as of 2022, there are about 26,514 total nursing homes in the U.S. which has increased by 2% compared to 2021. And it is expected to grow by 2.2% through 2022.
The market size of the nursing homes industry in the year 2022 is $146.9 Billion, which was 140.6 billion in 2021, and 134.95 billion in 2020.
These figures are enough to believe that the nursing home industry will be in demand in the future, and as a healthcare products manufacturer or marketer, your products or services will have many high-paying potential clients if you follow the correct marketing strategy.
In this blog, we will discuss seven marketing strategies that will help you to position your product better in the market and level up your business game.
Let's see what these strategies are:
7 Nursing Homes Marketing Strategies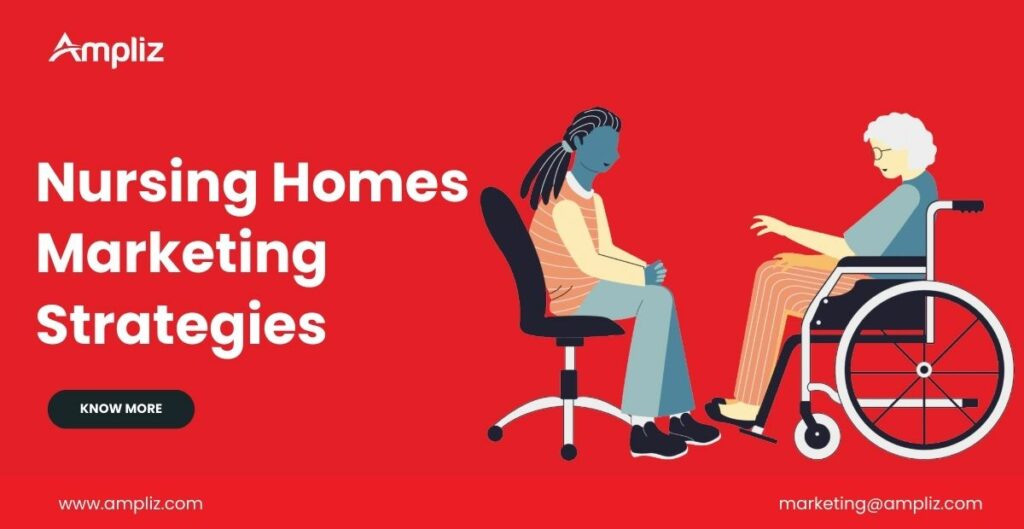 1) Understand the organizational structure
There is a considerable difference between marketing to an individual and a big organization where key decision-makers are many.
The nursing home is obviously a big organization, where you might need to work with either the purchasing department or buying group.
In such cases to increase your chance of conversion, mapping out your prospect's purchasing hierarchy and identifying the key decision-makers involved in the process is a very important nursing homes marketing strategies.
Interacting with the right set of people who have a direct influence on purchasing decisions will help you market and sell better.
2) Gain the trust of key opinion leaders
In big nursing homes, finding key decision leaders who have an influence on purchasing decisions is difficult to find and time-consuming.
So the best person you should contact is the key opinion leader.
Key opinion leaders are the people who help you to inform your sales strategy and massaging and help you to contact the right decision makers.
And for that, you must gain the trust of those key opinion leaders and have to maintain good relations with them.
3) Research their pain points
The other nursing homes marketing strategies is identifying the pain points of your prospects.
Identifying the pain points of your prospects will help you to come up with the products that they require.
It also shows your prospects that you understand their challenges, and thus you can gain their trust.
For example, 54.6% of residents are women and 35.4% are men.
Moreover, 71.5% of residents suffering from hypertension, and 47.8% of residents are suffering from Alzheimer's or other dementias.
Data like these will help you to target your customer well and increase your conversion rate.
4) Know product-market fit
Along with compassionate and efficient staff, a nursing home requires good quality equipment to transfer patients, assist with mobility, administer medical care, ensure patients' comfort and safety, and monitor patients' long-term health.
Therefore Nursing homes are always ready to invest in the products that help them to manage their patients well and deliver satisfactory service.
Let's see what these products are which are always in demand in nursing homes.
Necessary Medical Equipment For Nursing Homes
From safety supplies to first aid items to infection prevention, a nursing home requires all the possible items that are a must for emergency preparedness in nursing homes.
Safety supplies: This includes wheelchairs, walkers, shower seats, braces, Bed alarms, etc.
First aid items: Disinfectants, gloves, bandages, burn medication, etc.
Patients' medical supplies: Urinary bags, sensory blankets, and bedpans
Lift: Bed lifts, stretchers, support structures, etc.
Infection prevention: Disinfecting wipes, hand sanitizer, soap, masks, gloves, etc.
5) Experiment with different media
In this digitally dominated world, being present on different online channels can be a game changer for your business.
Trying different channels like email, social media, SEO, videos, paid search, trade publications, affiliate marketing, newsletters, trade shows, influencer marketing, etc. is a crucial part of the nursing homes marketing strategies.
You can also try social channels like threads where you can get threads followers and spread the word of your nursing home around.
Investment in this kind of digital marketing can bring you more than 10x revenue, for the following reasons
2 out of 3 doctors are on social media for business purposes
81% of hospital decision-makers directly get in touch with vendors after seeing ads on google ads.
38% of healthcare providers make buying decisions after going through online reviews
68% of healthcare providers use videos to compare different products and 63% make buying decisions after seeing videos.
6) Make the content an effective part of your marketing strategy
In the era of digital marketing content is king. One of the ways to gain the trust of the decision-maker is by providing effective content consistently.
72% of healthcare professionals prefer to start with a search while buying any product. Consistent content writing will also help you with generating leads.
7) Understand regulatory guidelines that affect buying decisions
Last but not least compliance with rules, standards and regulations are must when it comes to marketing to the healthcare industry.
At the time of selling electronically protected health information, you must check whether you are completely compliant or not to refrain from paying fines and penalties.
Conclusion
These strategies will help you to position yourself as a trusted business partner in this highly competitive market.
To make it easier, to target better, to convert better, and to sell better, make Ampliz your growth partner.
Ampliz provides you with the contact list of nursing homes that might require your products.
Frequently Asked Question On Nursing Homes
How to market a nursing home?
Marketing a nursing home can be challenging, but there are several strategies that can help you attract potential residents and their families.
Here are some tips:
1. Identify your target audience: Before launching any marketing campaign, it's essential to identify your target audience.
Typically, the primary target market for nursing homes is seniors who require long-term care or those recovering from an illness or injury.
2. Develop a strong online presence: In today's digital world, having a robust online presence is crucial.
Ensure that your website is user-friendly and provides relevant information about your facility, services offered, pricing options, etc.
3. Leverage social media platforms: Social media can be an effective tool to reach out to potential residents and their families.
You can use platforms like Facebook and LinkedIn to share updates on events happening at the facility, testimonials from happy clients or showcase photos of daily life at the nursing home.
4. Offer educational seminars & workshops: Hosting educational seminars or workshops that address issues such as aging healthily, and managing chronic diseases in older adults could help position your facility as a trusted resource for senior care needs.
5. Optimize SEO: Search Engine Optimisation (SEO) is important when building visibility for your site on search engines so ensure that all pages have clear title tags with keywords related specifically to what users might be searching for regarding elderly care.
6. Utilize Influencers: Reach out to local influencers within the industry such as doctors/nurses/therapists directly involved in eldercare especially if they are active on social media networks.
7. Provide Free Consultation: Offering free consultations would not only give people insight into what kind of service you provide but also make them feel valued which would increase chances of them choosing you over competitors.