Website Metrices You Should follow as a Digital Marketer
Website traffic
Top Sources
Bounce Rate
Goal Completions
Top Web Pages
Time spent on Site
Conversion rate
Interactions Per Visit (Pages/Session)
Click-Through-Rate
Quality Scores
Measuring success is crucial to any business. When it comes to measuring daily traffic on your website, there are few things to keep in mind.
When we started measuring at Ampliz, we were confused about the website metrics/dimensions that were important to our business and the ones that didn't matter. Eventually, through multiple experiments, we arrived at the top 10 metrics/dimensions that helped us better understand our business.
Through this blog post, we would like to share with you our journey and present you with the ten metrics/dimensions to ease your Website analysis process.
Why measuring the daily progress crucial to a business?
You need to get started (if you are not) measuring your marketing efforts for 5 top reasons:
Audience analysis – To understand who comes to your site
Content analysis – To analyze what content appeals to your visitors
Behavioral analysis – To analyze your visitor's interaction on your website
Conversion analysis – To understand if your visitors performed your intended action on the site.
Features that work and the ones that don't.
All these analyses collectively help you pen down the most crucial part of your business – The Customer Experience.
Ampliz has always been focusing on building a community. We made sure our website metrics speak to us our audience's voice so we can offer more to keep them happy and engaged.
Website Metrics that matter to Ampliz and hopefully to you!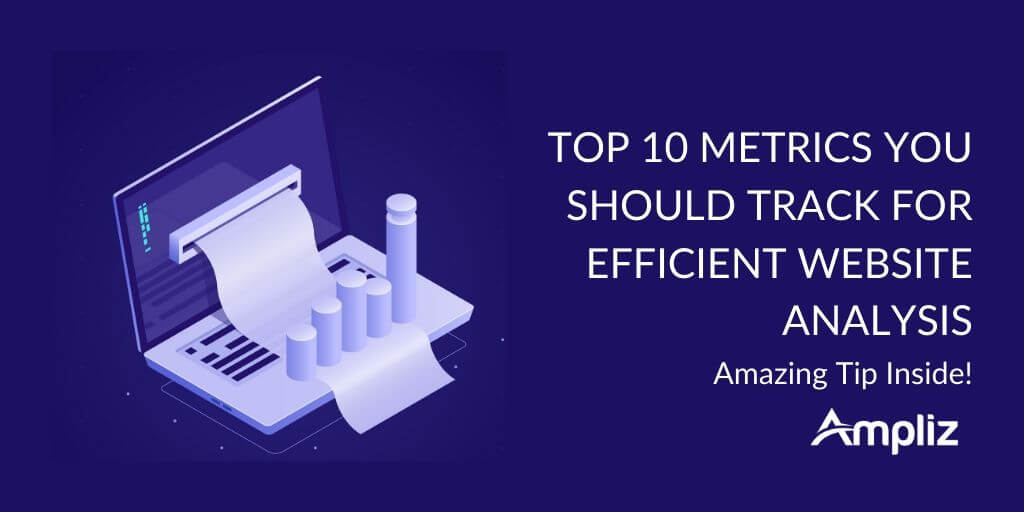 #1. Website traffic
Traffic is a fundamentally important metric for any successful website. Your website's traffic figures are a good indication of showing whether your site is growing, stagnating, or declining.

Traffic in itself makes very little sense. Breakdown the traffic into two sets; New and Returning visitors. If your number of repeat/returning visitors is growing, this means that people are revisiting your site to shop, read or do something more. It means that your website was compelling and useful, or "sticky" in online marketing lingo.

If your new visitors are increasing, more and more people are becoming aware of your Product/service. Make sure to run campaigns catered explicitly to them for converting them to repeat customers and ultimately loyal audiences.
#2. Top Sources
Now that you are getting visitors coming to your website, it's essential to see the Source that brought them in. Understanding this dimension helps you to see which channels/Sources work for you and the ones that don't.

If you are using Google Analytics to track traffic, the breakdown of the sources is as follows:
Organic Search – Visitors that are coming from Unpaid search engine results page
Direct traffic – Visitors who landed on your site by typing your website link directly on their address bar
Referral traffic – Visitors coming from another website/page that mentions your brand
Social traffic – Visitors coming from Social media channels like Facebook, Twitter, Quora, Instagram, and others.
Since each traffic source works a bit differently, you'll want to look at each separately when identifying areas of improvement.
#3. Bounce Rate
The bounce rate for a website page is the percentage of people who landed on your site and left the place immediately without any interactions. Lower the bounce rate, the better it is for your business.
There are several reasons why the bounce rate can be high.
Few of them are:
The content might be irrelevant to your audience
Design is not very user-friendly
Navigation links not available
Page load time is high.
Lower bounce rate indicates that people are clinging around and enjoying your site. Again, if your bounce rate is meager, that's not a good sign either. Check on your Google Analytics installation code. You might have implemented them twice.
#4. Goal Completions
In Google Analytics, "Goal Completions" are the number of times website visitors complete a specific goal on your website.

Goals could be different for different businesses. For example, for a blog, goals could be the time users spend on the site or the number of blog pages they checked out in a session. For an eCommerce site, Goals could be "add to cart" or even perform a transaction. For a lead generation site, Goals could be submitting a contact form.

Seeing how many users are interacting with the buying process is the key to fixing issues and finding room for improvement.
#5. Top Web Pages
Google Analytics lets you see which pages perform best in terms of Pageviews. It should give you an idea of what types of content your audience likes and responds.

Measuring Social shares on these pages is also an excellent measure to check on their engagement. This insight can prove extremely vital in deciding the type of content you need to publish next. If you get exceptional pageviews on specific kinds of pages, try using a similar format or similar material.

However, you do not get the Social share information through Google Analytics. You could try a WordPress Plugin or any other analytics platform.
#6. Time spent on Site
This metric tells you how much of time your audience spent on the site per visit. It helps you better understand how effectively your content is resonating with your audience. Poorly written content often disappoints your audience and makes them leave the site immediately, while a well-written content delights your visitors and nudges them towards conversion.

Statistically, audiences hardly spend 15 secs on the site. So make sure to grab their eyeballs and keep them hooked.
Bonus Tips : Combine Pages/Visit and Time spent on the site to efficient analysis. It will help you analyze if people engaged with your content or opened your site and left it unattended.
#7. Conversion rate

Conversion rate is another raw top-level metric, but it's arguably the most important metric of all, as it can have a significant impact on your site's profitability. Total conversion numbers are essential, but it's the conversion rate that tells you how well you encourage your audience to perform the desired action.

Here is how you can calculate Conversion Rate: Unique Visitors / Conversions. A great practice is to consistently optimize the website with updated content and keywords after all your overall profits rely on Conversion rates, and conversion rates, in turn, rely on Website optimizations.
#8. Interactions Per Visit (Pages/Session)
Tracking every user interaction that does not lead to conversion is also helpful in finding their pain points on that page and influence them towards transformation. Understanding a user's interaction helps you learn more about your audience and cater to those requirements specifically.
It also helps you learn the issues on the website and make appropriate changes.
The interactions per visit metric give you a better idea of how many interactions people make on your site in one visit. The idea here is to analyze all the interactions of your audience and segment those that lead them to conversions.
At Ampliz, we strictly followed a No-Paid ad policy, and that worked for us; however, if you are into paid ads, it is the most critical metric that will help you reap maximum benefits.
#9. Click-Through-Rate
Click-Through Rate (CTR) is measured by dividing the total number of clicks your campaign gets by its overall impressions. This number is the percentage of people who have seen your ad (impressions) and then actually go on to click the ad (clicks).

The amount you pay for your PPC ads always relies on your Quality Score and CTR. Make sure to optimize your ads and target your audience with the right keywords to avail maximum benefit from Google Adwords.
#10.  Quality Scores
Quality Score is the most elusive KPI amongst PPC advertisers.
It is a metric created by Google that tells them how relevant your ad content is. Advertisers find it challenging to understand Quality Score because it's less straightforward than other easily measured KPIs, like clicks.
Google measures the Quality score based on parameters like:
Expected CTR
Ad Relevance
Ad format
Landing page experience