No matter your industry, type, or size of your business, establishing a strong presence in the B2B market is a challenge.
The competition is strong; there are so many products and services already being offered that it might seem intimidating for you to even get started. But, if you have the right content marketing strategy to support you, you'll have less to worry about.
Creating a strong B2B content marketing strategy means deciding what messages you want to write and send out and to whom.
The sooner you understand that you can't go anywhere without great content marketing messages, the better. You can have a brilliant business idea and even a market gap waiting for you to fill it.
But, it's worth nothing if you don't communicate it properly. And, since you've got to start somewhere, this article will help you understand how to write your first B2B message.
Why do You Need a B2B Content Marketing Strategy?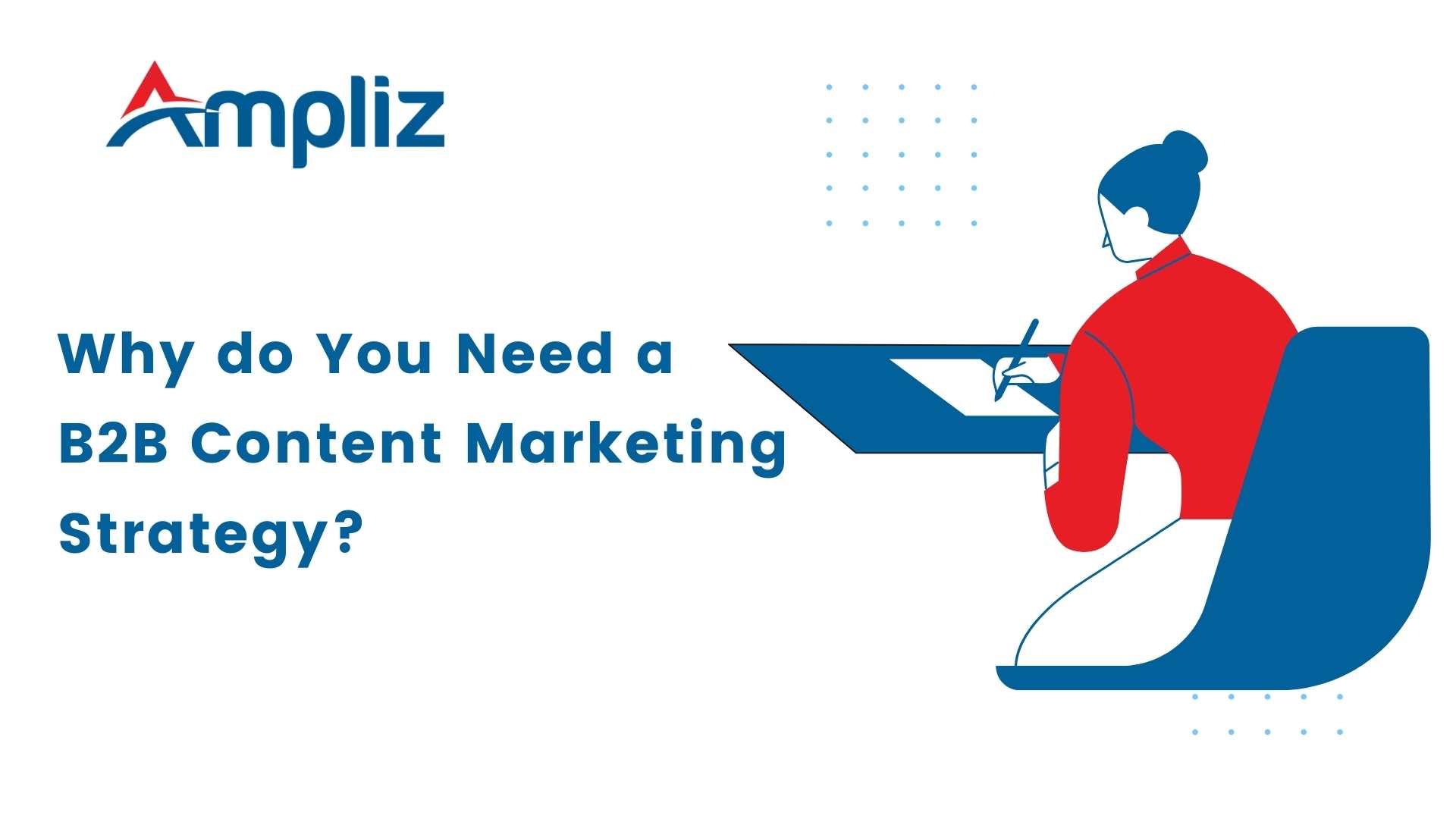 You've heard the phrase "content is king" hundreds of times, but you're not sure whether this is the case and why.
Whether you're just getting started as a B2B company or you want to bring your business to a new level, content writing is one of your strongest weapons.
86% of companies report that creating brand awareness is their number one goal for B2B marketing. But, the benefits of writing a flawless first B2B message, and many more messages to come, also include:
Establishing contact with other companies in your industry
Positioning yourself on the market
Networking
Lead generation and targeting the right leads
Increased sales and ROI
If you don't send any messages or send them out the wrong way, you'll be mission out on numerous opportunities to improve your business success and find the right customers, partners, or investors.
How to Write Your First B2B Message?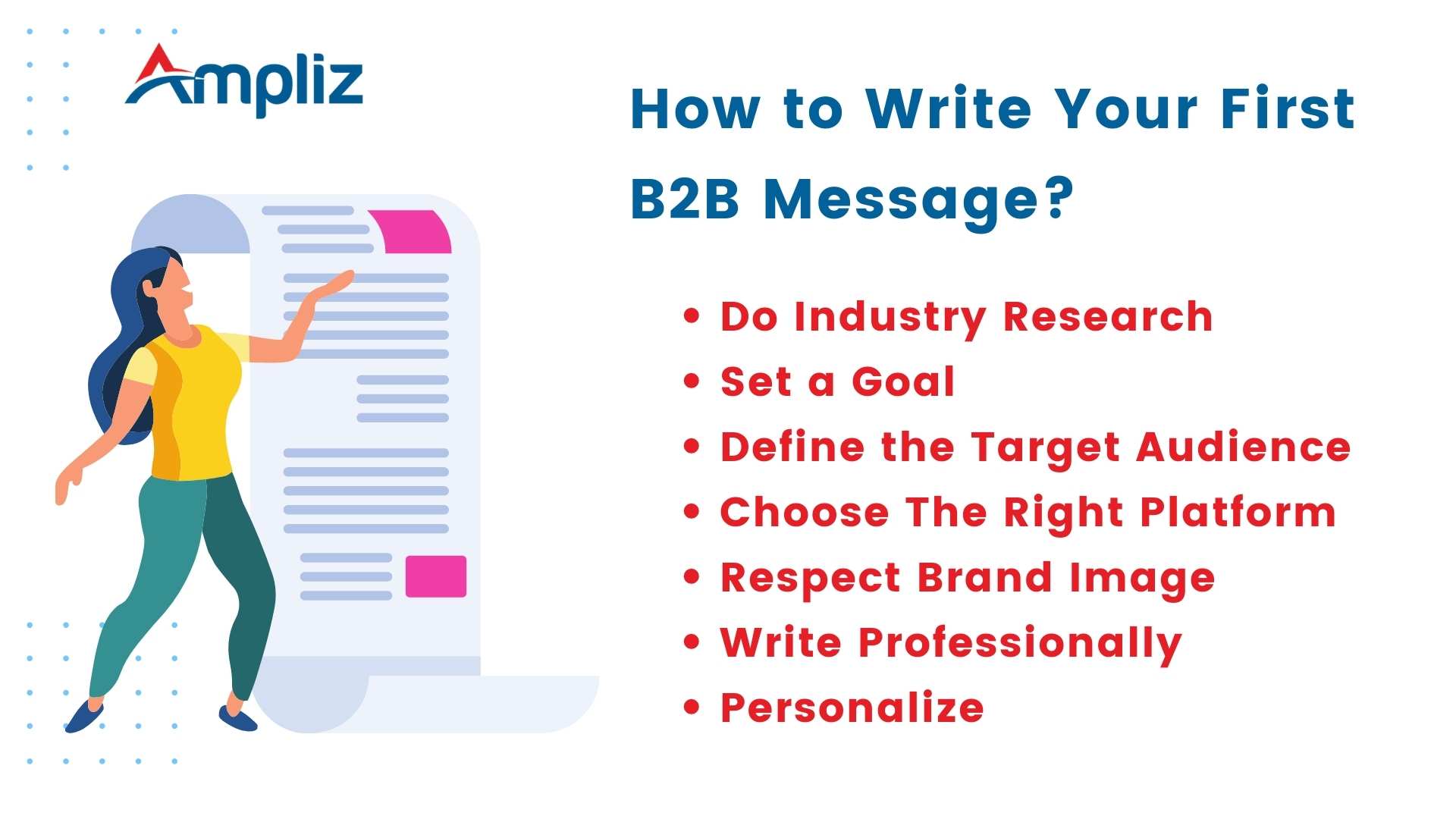 The importance of writing and sending out flawless B2B messages is indisputable, especially in the post-COVID world. That's why we'll break it down for you, step-by-step. Here's how to get started with your first B2B message and continue writing flawless messages from thereon.
#1. Do Industry Research
Before you start writing, you'll need to do some research. You want to know what's happening on the market and what messages are already out there.
The best way to do it is to:
identify your direct competitors
analyze their channels of content distribution
take notes on their strategies, messages, and audience
Try learning as much as you can about the type of content they publish, the frequency of publishing, their style of writing, and other factors shaping their content marketing strategy.
This will help you get a general idea of how things are handled in your industry. You can either use it as inspiration or a motive to come up with something completely new and unique.
#2. Set a Goal
Each of your marketing messages will differ based on the effect you want to achieve with it. This is why you want to choose a specific and clear goal for your first B2B message.
What do you want this message to accomplish? Try answering this question as specifically as possible. Here are some examples:
write a high-quality blog post to be read by thousands of people and thus raise brand awareness
send a winning email message to establish communication with stakeholders
promote your service visually using social media content and increase sales
Estelle Liotard, a writing expert from the GetGoodGrade writing site agrees:
"You can't write or send a winning B2B message without knowing exactly what your goal is. Set KPIs, know your goal, and specify how you plan on achieving it. Then you can go ahead and write a high-quality message." Setting a goal will help you aim your message towards the right people and make it a success.
#3. Define the Target Audience
When it comes to writing a B2B message, your target audience is other businesses' stakeholders. Different messages will aim to reach different stakeholders, so make sure you identify them early in the process.
There are all kinds of B2B stakeholders you could try to reach:
decision-makers in a company
end-users of your products or services
potential business partners
investors
low or high-level executives
Decide who this message is for before you start the writing process. Make sure to aim the message towards the right people to make sure it reaches its full potential.
#4. Choose The Right Channel/Platform
Now that you know the goal and the target audience for your first B2B message, it's time to decide which platform or communication channel to use to send it out. There are numerous content distribution channels you can use:
social media platform (LinkedIn, Facebook, Instagram, Twitter)
email marketing
influencer marketing
blogging
sponsored content
educational content (e-books, tutorials)
events (webinars, virtual conferences, live videos, Q&As)
Choosing your channel will mainly depend on the stakeholders you wish to target. For instance, direct email marketing is best for reaching out to company decision-makers, while social media is better for lower-level executives.
The one thing you don't want to do is send the same message to all your target stakeholders using all your communication channels. This would be a huge waste of time and money.
So, choose the right channel for your first B2B message and all the messages to follow.
#5. Respect Brand Image
Your B2B company should always aim at sending a consistent brand message, regardless of the marketing messages it's distributing. That means that all your brand principles should be visible and supported in your first and consecutive content marketing messages.
Make sure that you establish and always use:
brand personality
style of writing
brand colors, font, and design
brand value proposition
This should be unique to all your messages, including the first one. Consistency in writing and branding will help you build your credibility, boost your conversion rate, and become recognizable to potential customers or partners.
#6. Write Professionally
The way you write your B2B message will largely influence how people perceive it and whether they respond to it the right way or not. You need to develop the right business writing skills and stick to the basic principles of successful content marketing writing.
Here's what that implies:
write clearly and concisely
get to the point quickly
avoid poetic, overly descriptive language
write naturally and avoid overly technical vocabulary or pompous phrases
provide facts, information, and data
This may come as a challenge at first, but practice makes perfect. Plus, the writeversity writing site has writing experts who can help you polish your writing in case you need assistance. The more you write, the easier it'll be for you to respect these rules.
So, let's say you're writing a B2B email to a potential lead:
write a subject line that reveals the content of the email
open with the most important information
use the right B2B data provider to support your claims with credible data
add visuals and design elements that support your brand
Writing like a professional means respecting the basic principles of business writing to make sure your message is clear and effective.
#7. Personalize
You want your target reader to feel appreciated and special. You don't want them to feel like just another link in your chain. This is why personalization matters.
Personalization is even more important in B2B content writing than in B2C. This is because B2B messages are supposed to establish communication and allow you to send a direct message.
Therefore, for your first B2B message, try to:
learn as much as you can about the recipient
personalize the content
ask them questions they'll want to answer
evoke a response
Focusing on personalization in B2B writing will get you the response you need and make your content marketing messages more effective.
Final Thoughts
Writing your first B2B message is just the tip of the iceberg. It'll help you get started on creating a content writing routine that will help you reach your goals in the future.
The 7 writing tips shared above will hopefully help you build and adopt an effective B2B writing strategy and make all your messages strong and successful.