The Healthcare sector has been escalating exponentially since the onset of the Coronavirus pandemic and the havoc it brought. The fear-mongering reactions among the people have shifted businesses and the healthcare industry, in particular, to emphasize an advanced marketing approach.
The significance of the healthcare database can not be overstated- besides being crucial for doctors, hcp providers, and other teams to have access to health data in-depth and quickly. Healthcare operations can range from large-scale to individual processes, depending on the accuracy and efficiency of the data.
A healthcare database is a helpful tool for B2B marketers or, precisely, pharma marketers for curating ideal marketing strategies and campaigns. The database entails critical information like demographics, diagnoses, procedures, admission sources, and relevant charges- just to name a few.
Wondering how to find the best healthcare executive database? Fill out the form now!
Importance of Healthcare Database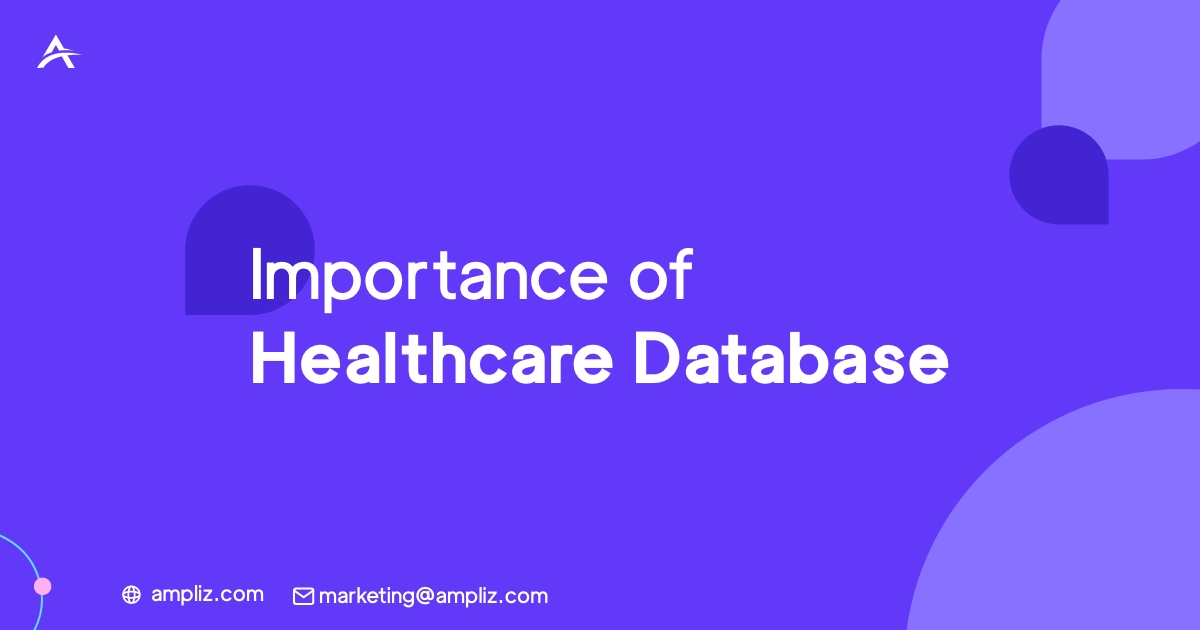 Healthcare professionals (HCPs) can derive a vast of information from the healthcare database- what marketing campaign works effectively, what post or content needs improvement and what is bringing no result or failing to provide desired results!
Besides aiding in promotions, the healthcare database brings the following:
Enhanced Competence
The Healthcare database records details of visitors in healthcare centers, hospitals, or doctors' offices for effective future use. In order to ensure that the recorded data is optimal, the database should have in-depth information with a simple and sleek design.
The database processing should be efficient for the healthcare providers to have hassle-free access.
Transparent Information
Sometimes patients or executives shift from one healthcare center to another. Here, the healthcare database provider recorded data that comes in handy while analyzing the prospects.
It shines a light on information like payment methods, identification, healthcare control, and other statistics of management. When information is shared across platforms, the data is believed to be organized and reliable.
Quality Evaluation
Since the details are gathered from different sources, like hospitals, state and regional departments, federal agencies, etc, it ensures to be true to its nature.
Based on parameters like the use of innovation, availability, and accessibility of services, and others, the healthcare experts can evaluate and comprehend the healthcare operations quality.
How to find the healthcare professional database?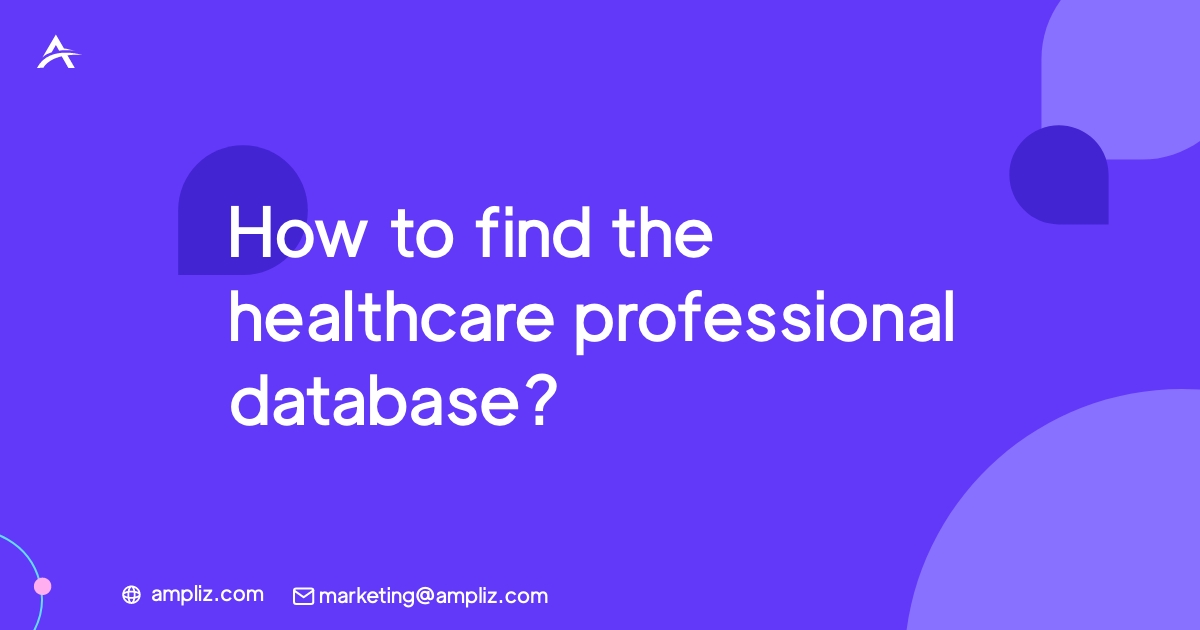 Ampliz is the leading healthcare professional database provider that compiles data for C-level executives, healthcare professionals, suppliers, distributors, and more.
Build Ideal Customer Profiles
Research on email list providers
Providers' guarantee policies
Accuracy and authenticity
Segmented database
1. Build Ideal Customer Profiles
Before stepping into the database, you must work on what customers you want to lure for your respective business. Before embarking on your marketing strategies and campaigns, prefer building your customer profile. This aids in curating content pieces that resonate with prospects you're about to prospect.
2. Research on email list providers
There are several healthcare database providers for you to choose from. It is crucial to find an up-to-date and reliable database so that you can be sure of what you are getting into.
3. Providers' guarantee policies
Go for a healthcare professional database that guarantees a validated list, segmented, open data, along with a full metric report.
4. Accuracy and authenticity
Prefer the healthcare email list that has high integrity with regular updates. Observe how the lists were compiled to ensure cleanliness.
5. Segmented database
The Healthcare database offers a segmented data list based on demographic, specialty, license rate, practice type, and much more.
Features of healthcare database from AMPLIZ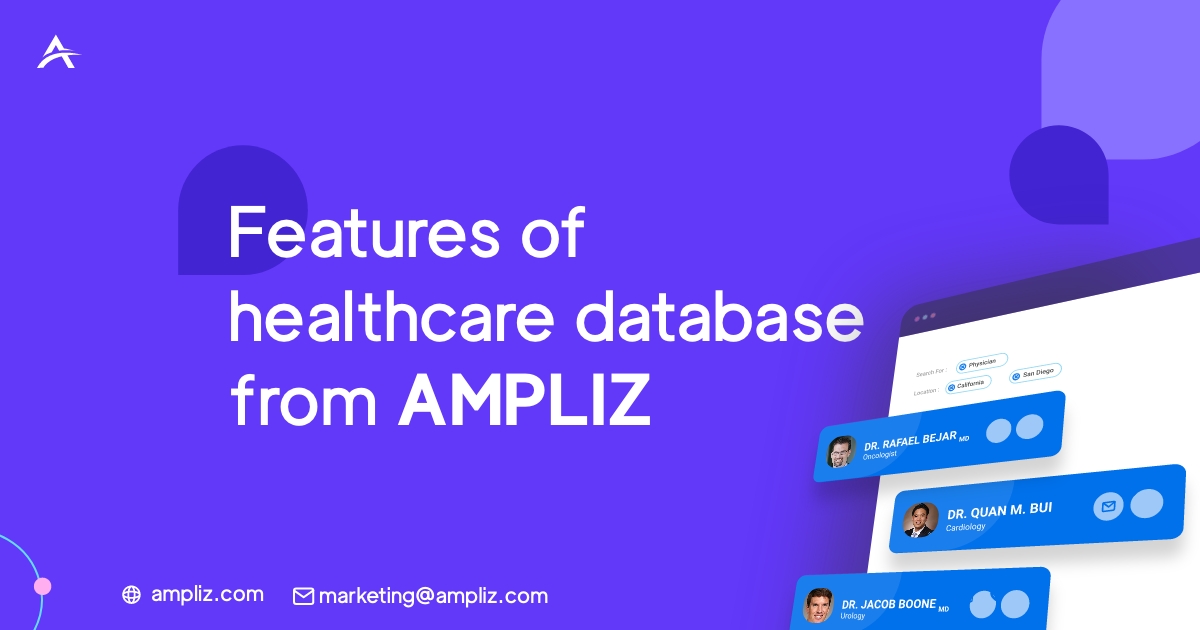 Segmented & Customized
Find the right healthcare executive
Filter the attributes required
Boost 400X ROI
Drive business growth
Market healthcare executives needs
High Quality, Reliable, and Verifiable Data
Save Time & Money
Powerful Campaigns Creation
Ensures Customers Loyalty
Segmented & Customized
The healthcare database must have a segmented list based on job title, medical affiliation, license state, practice type, etc. The best part is that brands can customize the email list as per the need and requirements.
Find the right healthcare executive
Often companies cannot find a suitable healthcare professionals HCPs to select them as per the need. Since, Ampliz collects healthcare executive information from several reliable and credible sources. To ensure the data are of high quality and efficacy.
Filter the attributes required
When a marketer creates a marketing strategy, they have a particular milestone in mind to keep a track of the plans. Therefore, marketers can filter the choice of attributes to store the data that only they require in campaigns.
Boost 400X ROI
With the healthcare professionals emails list, you can engage with the influential healthcare professional depending upon their prescribing behavior and your choice. The return on investment in the marketing campaigns improves by 400%.
Drive business growth
Marketers can save time researching healthcare executive databases. This boosts the sales of the business as it helps in enhancing the focus on marketing activities, leading to driving business growth.
Market healthcare executives needs
With healthcare executives' email lists handy, you can enjoy more lead generation, which further also improves the conversion rate by a significant percentage.
High Quality, Reliable, and Verifiable Data
All the data derived from the diverse resources are of high quality and up-to-date as per the real-time information. The recorded data is further verified by the data experts before lodging them into the master data list.
Save Time & Money
The healthcare executive email lists are well-organized, simple, and accurate. This ensures that the researchers and marketers do not have to waste time, effort, and money.
Moreover, you do not have to engage in incomplete information or missing records.
Powerful Campaigns Creation
Healthcare executive database customization, as per the business needs, helps in creating powerful marketing campaigns. The perfectly customized list keeps your targets organized and helps in launching enduring marketing campaigns.
Ensures Customers Loyalty
These perfectly designed campaigns help in reaching out to the relevant target audience and turn them into loyal customers. Further, it results in increased revenue and improves overall profit.
In Conclusion
Ampliz healthcare database aids in generating leads that maximize growth and revenue. The list is gathered from data sourced from public and private resources like medical journals, business directories, medical conferences, interviews, government records, and many others.
Get the best healthcare database platform from trustworthy healthcare database providers.