Reach the healthcare key decision-makers, doctors, physicians, registered nurses, and other hospital executives effortlessly with the reliable healthcare mailing list.
The ongoing covid-19 pandemic has disrupted the world with remarkable challenges. The novel virus imposed a new threat to countless industries, impacted manufacturing sectors, and hit various businesses globally.
The healthcare industry spurred a rapid transformation to meet the healthcare challenges. Also, COVID-19 has created an incredible demand for certain medical equipment, supplies and it was never easy to reach the key prospect in healthcare businesses.
To reach the targeted physicians, healthcare practitioners, registered nurses, and other healthcare professionals, get access to Ampliz healthcare intelligence.
Ampliz gives you reliable and complete healthcare intelligence based on their location, practice type, speciality, license, drug prescription, and more. Using these viable healthcare datasets, you can extend your reach and engage the right healthcare prospects who matter the most to your business.
If you are on a search for updated and verified healthcare data, Ampliz – healthcare data intelligence helps you reach the healthcare prospects across.
Ampliz's Healthcare Mailing Lists: Accurate, Precise, and Comprehensive
We at Ampliz are a leading mailing list provider in the healthcare industry. We compile data from credible sources and help you reach the targeted healthcare professionals. Our team of data experts sources accurate data intelligence and comprehensive contact information.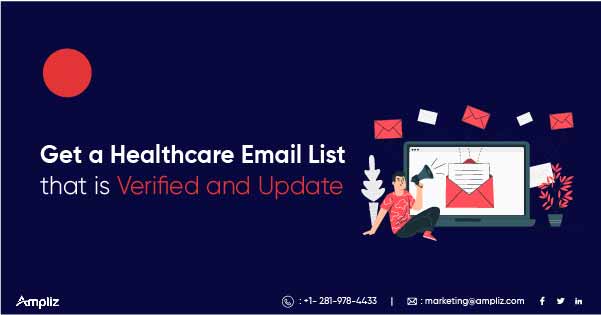 Our complete database contains viable data points like
Name
Business name
Industry type
Email address
Verified phone number
Speciality
Location, and more
Finding the right healthcare professionals for your drug procuring, marketing, lead generation, and recruitment requirements is a complicated task. This is where we come in! Our healthcare mailing lists allow you to reach healthcare professionals and simplify your direct marketing efforts.
This marketing list includes doctors, specialized industry professionals, nurses, administrators, and more. With our various lists that cater to the needs of all different professions within the field of medicine, you will find success with your next campaign.
Using an accurate, precise, and comprehensive healthcare mailing list you can direct your messages to the right prospects and fetch for you the appropriate response without wasting much of your precious time.
The healthcare mailing list will give access to reach and connect with the targeted healthcare prospects who matter the most to your businesses. Our healthcare data goes through multiple layers of verification and several quantitative as well as qualitative checks.
Here is a list of the healthcare speciality categories to help you access and engage the entire healthcare business:
Podiatric Surgeon Email List
Radiologist Email List
Physicians Assistants List
Cardiac Surgeons Email List
Psychology Email List
Endocrinologist Email List
Ophthalmologist Email List
Gastroenterologist Email List
Optometrist Email List
Physical Therapist Email List
Massage Therapist Email List
Bariatrician Email List
Medical Email List
Nephrologist Email List
Pathologist Email List
We have got you covered! Access and explore Ampliz healthcare datasets now.
Ampliz Healthcare Email Database: The Latest Way to Connect with Your Target Audience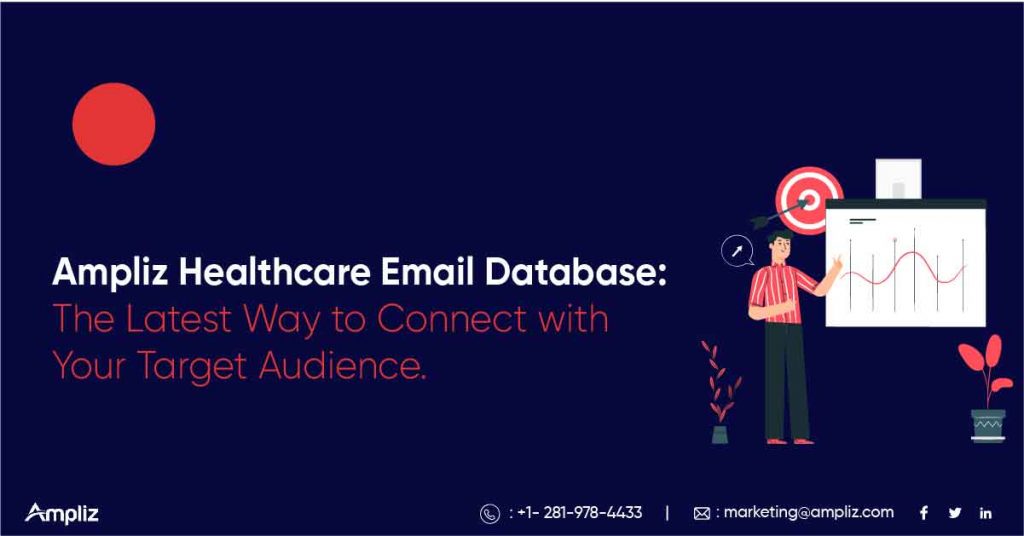 The healthcare industry is one of the most dynamic and revolutionizing sectors in the world. Each day, the competition is surging with hundreds of healthcare providers budding across the globe.
Reaching the right healthcare prospects is now becoming a complicated task. Most healthcare professionals are busy catering to emergency cases, consistent medical conferences, various scheduled surgeries, medical consultation, appointments, and more.
It is harder to surpass all the gatekeepers and get an appointment with key healthcare prospects. If you are in search of genuine ways to approach the right healthcare prospect, it's crucial to have reliable information, practice type, speciality, location, etc.
With Ampliz, you will get access to personalized data of 2M+ physicians, 9.1K healthcare companies, 230K executives, and reliably more.
If you want to target and connect the specific healthcare professionals like cardiologists, dentists, surgeons, registered nurses, practitioners, critical care specialists, etc.
At Ampliz, we are consistently striving to offer you accurate and comprehensive healthcare datasets.
Healthcare data intelligence will help you know the targeted healthcare prospects, If you are into healthcare-related business, then the healthcare email list is the perfect solution that will help you take your services to the right healthcare and medical professionals.
Using authentic and accurate healthcare, you can narrow down and connect with multi-speciality doctors, physicians, surgeons, practitioners, nurses, healthcare centres, pharmacists, and the whole healthcare community.
Healthcare Mailing Lists FAQ's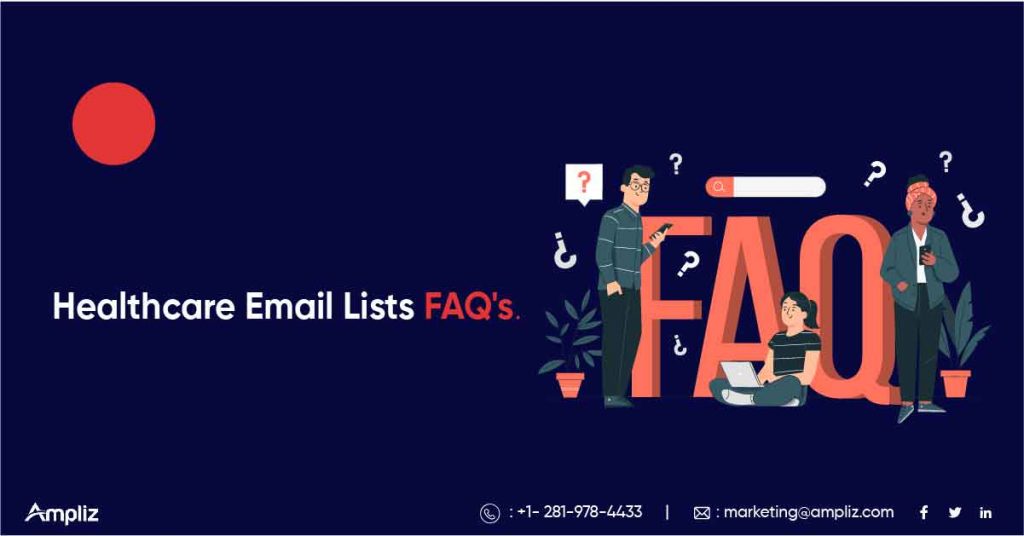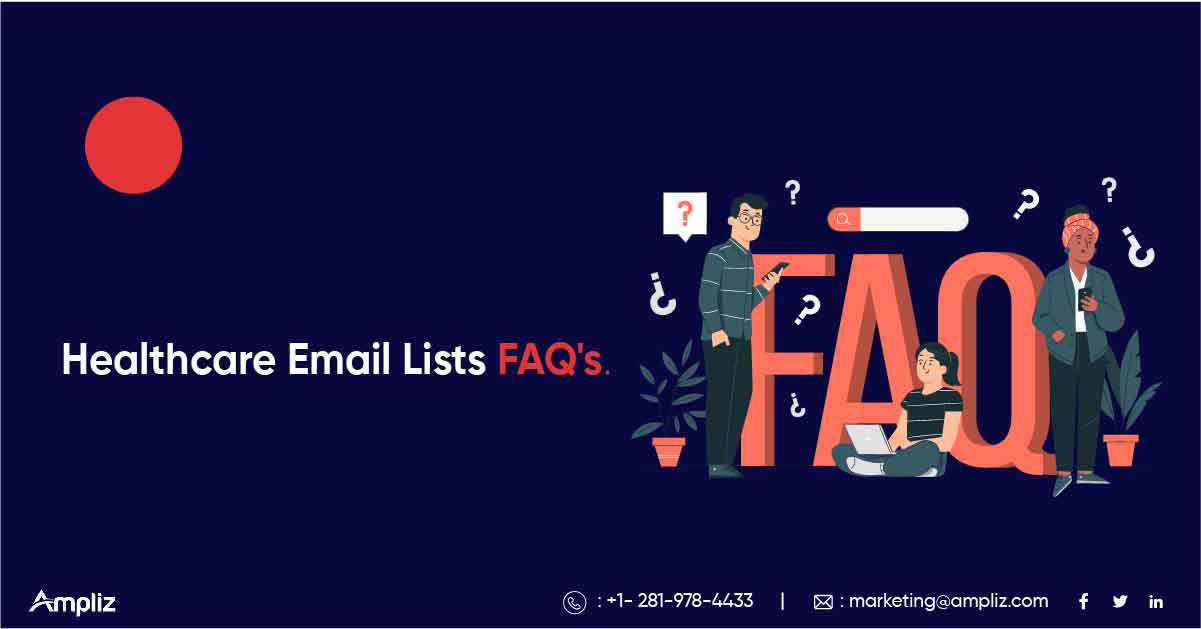 Will a healthcare mailing list be useful?
Yes, absolutely! A healthcare email list helps you reach all the frontline workers of the healthcare industry. Using a healthcare email list, you can reach the top decision-makers and promote your healthcare offering to potential healthcare prospects.
A healthcare mailing list helps you to find doctors from various medical speciality groups and also boost up your healthcare marketing and sales strategies.
How to generate more leads with Ampliz's healthcare mailing lists?
An updated and organized email list automatically generates more leads each day. On top of that, marketers generally run behind the latest trends, tactics, and strategies and most of them can run a little more distance to fill up their funnels.

From Ampliz's healthcare mailing lists, you can drop your message to the correct inboxes, successfully convert your future leads into appointments and also raise the height in a very short span of time.
Who is the best healthcare email list provider?
Of course, it is AMPLIZ, right in front of you!

You can find millions and millions of healthcare email list providers, but if you are searching for the best healthcare email list provider in the USA, then you should hop on to Ampliz. You find a range of doctors, physicians, therapists, nurses, medical executives, pharmacists, surgeons, PPE suppliers, and medical device or equipment manufacturers, all at one-go with a healthcare email list.
How do I buy a healthcare email list?
With Ampliz, get the best healthcare mailing list from credible sources. Many list providers are offering outdated or obsolete healthcare data without any assurance. Ampliz guarantees you an accuracy of 100% deliverability. We give you the biggest collection of healthcare email lists with accuracy and deliverability.
Where do I get a healthcare email database in the USA?
Ampliz is the name! Get the most authentic and updated healthcare email database in the USA here. Our database goes through many layers of verifications and they are collected from reliable sources and trusted third-party vendors. Get the most reliable contact information and all that you require, in our healthcare email database.
How does Ampliz collect data? What are the sources?
To supercharge your campaign performance, our data experts collate authentic data from a series of credible offline & online sources. We at Ampliz source data from the following reputed sources:
Government records
B2B Directories
Annual Reports, SEC Filings
Newspaper Subscription Offers
Sign-up data from email Campaigns
Business trade show attendee lists
Public Record Information
The registration process for subscription sites
Community postings
Nationwide utility transaction reports
Transactional data
Phone surveys with every business
Web-based Registrations and/or offers
Business trade magazine subscription offers
How reliable and accurate is Ampliz's healthcare email list?
We constantly cleanse, validate & verify every single data attribute before it enters our master data repository of 400+ Million contacts.
We at Ampliz, offer close to 75+ intelligent data fields that cover company information including organizational & CVDM Executives' structure, Events exhibited, team size, revenue, IT spends & a lot more.
Who are the best companies to work with when buying a healthcare email database?
Among all the best US email database providers, Ampliz is considered to be one of the legit providers. Ampliz complies and gives you the right information from various credible sources. Ampliz has a stringent validation and data verification process to prevent data decay.
When you need to reach healthcare professionals for marketing purposes, our mailing lists allow you to find a variety of medical science professionals including doctors, nurses and administrators.
If you're looking for healthcare mailing lists that can help with your direct marketing efforts, contact us today! For more updates and information related to the latest hacks and insights of the healthcare world, visit our blogs on our website Ampliz. Also, do not forget to discover our Contextual Healthcare Intelligence platform, where you can find the best-personalized data.