Reach the most trusted and certified doctors, nurses, physicians, and hospital executives through our targeted healthcare mailing list. 
The ongoing pandemic caused by the deadly Coronavirus has caused activities that still need time to be processed.
On one hand, every industry including the huge healthcare industry, working all around the world, suffered a great loss and also experienced several challenges but also, on the other hand, actions to beat the virus and its infections and several other effects, the healthcare industry evolved to be much more efficient and working, than ever before.
During situations like this, it is very important to keep healthcare email lists in front of your instant eye-sight, because one never knows what is waiting and what is actually approaching.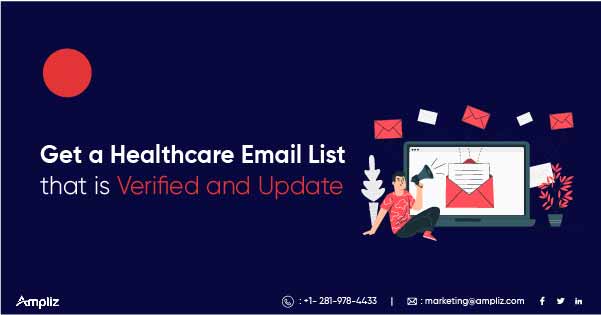 We at Ampliz provide you with one of the best healthcare email databases and healthcare mailing lists in USA, to help you with your requirements and emergencies.
By providing the most trusted, updated, verified, and authentic databases, Ampliz is considered to be one of the best healthcare email lists providers in the USA.
Ampliz's Healthcare Mailing Lists: Accurate, Precise and Comprehensive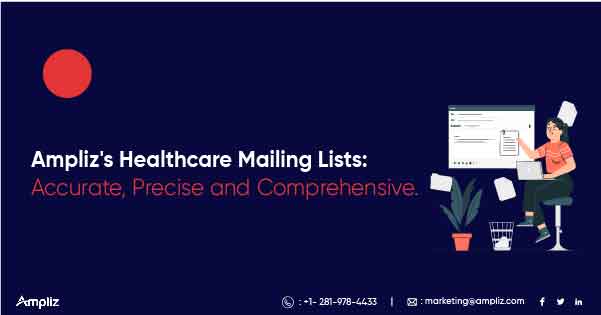 We at Ampliz are a leading mailing list provider in the healthcare industry. We provide high-quality and accurate data of healthcare professionals email list, which is compiled from credible sources.
Our team of dedicated analysts goes through a painstaking process to make sure that all our databases are as comprehensive as possible for you. Our database contains contact information such as names, email addresses, phone numbers, and company details. 
Finding healthcare professionals for marketing purposes can be difficult. This is where we come in! Our healthcare industry mailing list allow you to reach healthcare professionals from a variety of medical sciences for your direct marketing efforts.
This healthcare marketing list includes doctors, specialized industry professionals, nurses, administrators, and more. With our various lists that cater to the needs of all different professions within the field of medicine, you will find success with your next campaign.
Our healthcare mailing lists are extremely accurate, precise and made as comprehensive as possible to direct your messages to the correct prospects, without waiting much of your precious time, and fetch for you the appropriate response.
The mailing list which we provide you with, is a result of extensive hard work of our professionals and experts, which focus to provide you the best service. Our healthcare database goes through multiple layers of verification and several quantitative as well as qualitative checks.
Here is a list of the categories which we provide you in Ampliz's healthcare email list:-
Podiatric Surgeon Email List

Radiologist Email List

Physicians Assistants List

Cardiac Surgeons Email List

Psychology Email List

Endocrinologist Email List

Ophthalmologist Email List

Gastroenterologist Email List

Optometrist Email List

Physical Therapist Email List

Massage Therapist Email List

Bariatricians Email List

Medical Email List

Nephrologist Email List

Pathologist Email List
Ampliz Healthcare Email Database: The Latest Way to Connect with Your Target Audience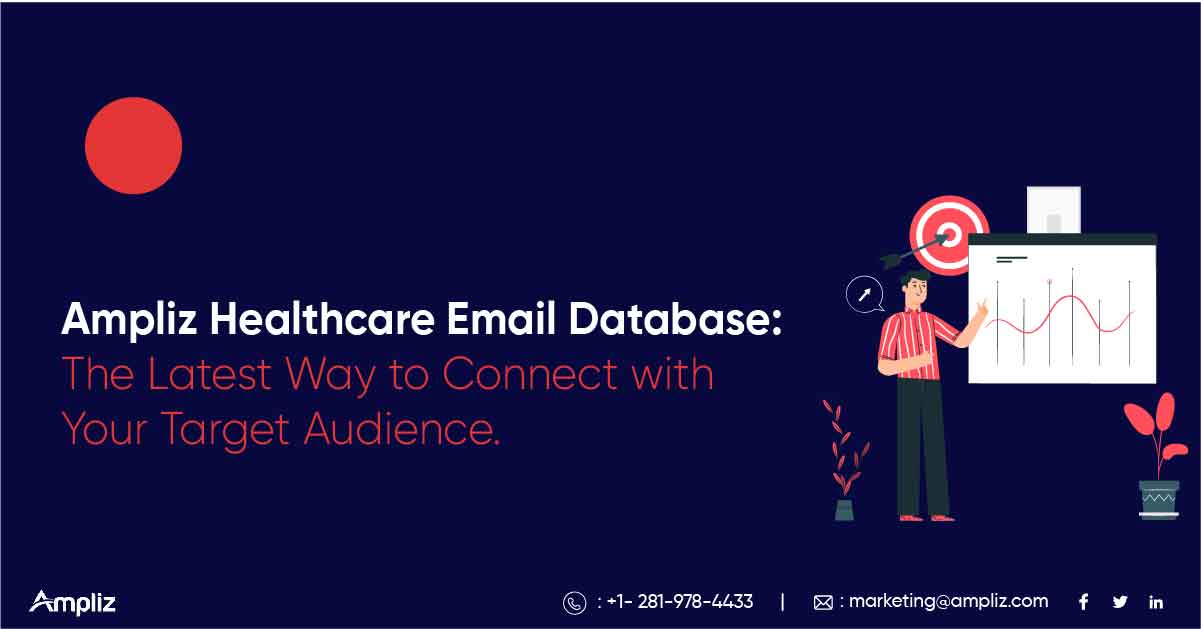 The healthcare industry is one of the most dynamic and ever-changing industries in the world. The competition for new clients, business partners, or even prospects can be fierce as more people are joining this industry each day.
One way to make sure you stand out from your competitors is by targeting your audience through email marketing campaigns. With so many choices on who to work with, Ampliz's US healthcare email database provides its customers with a high quality list of authentic contacts that they can use in their campaigns today.
The process of email marketing is not new, but it has evolved over the years to include a variety of different tactics. One way marketers can use emails to reach their target audience is by using healthcare email databases. Ampliz offers an affordable and easy-to-use solution for companies who want to reach healthcare professionals through email campaigns.
It is really a big problem and as well as a concern for you when your emails do not fall in the correct place where you want it to step foot, and we completely understand that. To solve this problem and to rescue you from such a condition, our healthcare email database is always ready and steady.
At Ampliz, we are continuously working to give you the best service. We provide you with more than 2 million healthcare professionals email list. Our email ids are completely verified through phone calls and emails and covers more than 100 countries from all around the world.
Now, obviously, a question may arise in your head that, what is the accuracy of all this database and email lists which we are providing you. And here, we come with the answer that our email lists and databases are 99% accurate.
We update our data regularly and provide you with greater authenticity every time you come back.
It takes a lot of time, hard work and dedication, all at the same time, to collect data, both structured and unstructured, and then processing it correctly. Our professionals and experts excel in this and they do all that can help to make our lists more accurate and trustworthy.
With our active actionable insights, boost your plans smartly regarding the policies related to your business and amplify the name of your brand.
Our mailing list is absolutely segmented based on postal addresses, zip codes and real time locations. This will help you to design, plan and as well as execute customized and personalized campaigns, which are both online and offline, to magnify your lead generation.
The healthcare mailing list provided by us attracts the right prospect, builds trustworthy relationships with them and also increases engagements.
Ampliz is also considered to be one of the best email healthcare providers in the USA because its data, as stated before, goes through several checks and verifications to maintain the quality of our data. This checking is done with the help of both human intelligence and AI based validation operations.
Healthcare Mailing Lists FAQ's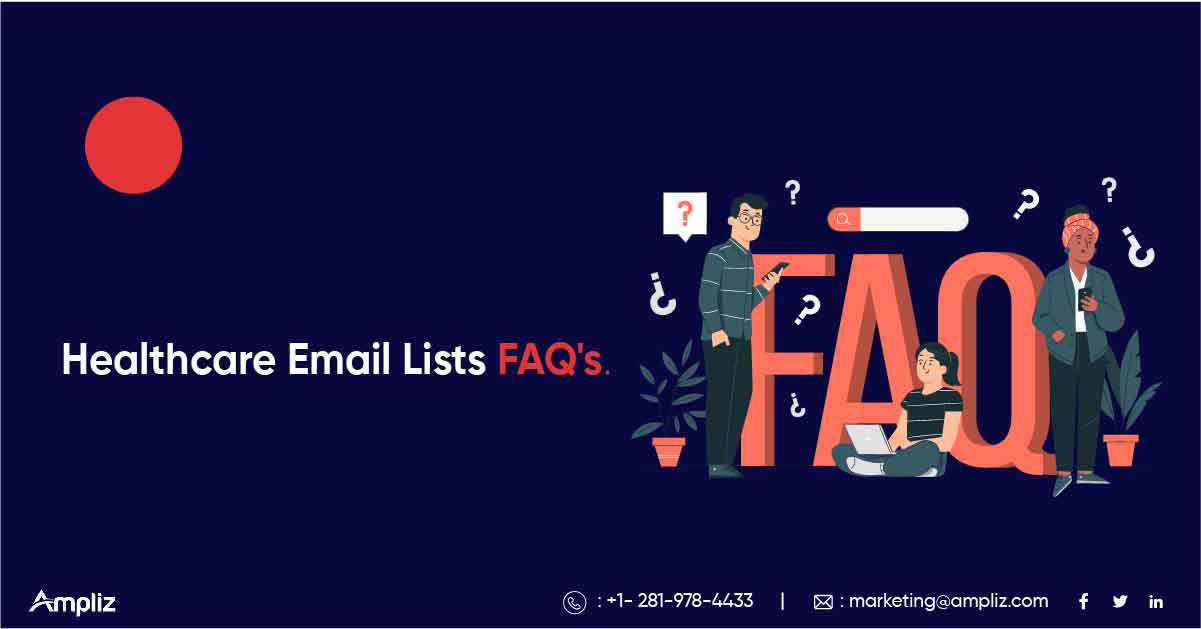 Will a healthcare mailing list be useful?
Yes, absolutely! A healthcare mailing list helps you to find doctors from various medical science groups and also boosts up your marketing and sales strategies.

If you are using the healthcare email list provided by Ampliz, you will find no category that is not covered. Starting from specialized healthcare professionals to all kinds of therapists, you have it all before asking!
How to generate more leads with ampliz's healthcare mailing lists?
An updated and organized us healthcare email list automatically generates more leads each day. On top of that, marketers generally run behind the latest trends, tactics and strategies and most of them can run a little more distance to fill up their funnels.

From Ampliz's healthcare mailing lists, you can drop your message to the correct inboxes, successfully convert your future leads into appointments and also rise the height in a very short span of time.
Who is the best healthcare email list provider?
Of course, it is AMPLIZ, right in front of you! 

You can find hundreds and thousands of healthcare email list providers, but if you are searching for the best healthcare email list provider in the USA, then you should just run Ampliz.

You find a range of doctors, physicians, therapists, nurses, medical executives, pharmacists, surgeons and medical device or equipment manufacturers, all in one healthcare email list.
How do I buy a healthcare email list?
With ampliz, buy the best healthcare email list from the thousands. Many of them are providing healthcare email lists, but you have to keep in mind the accuracy factor.

Remember, Ampliz guarantees you with an accuracy of 99%.

We give you the biggest collection of healthcare email lists with top accuracy. Our clients are more than happy and we as providers think this to be our golden goal and our achievement as well.
Where do I get a healthcare email database in the USA?
'Ampliz' is the name! Get the most authentic and updated healthcare email database in the USA here.

Our database goes through many layers of verifications and they are collected from reliable sources and trusted third party vendors.

Get the most reliable contact information and all that you require, in our healthcare email database.
Who are the best companies to work with when buying a healthcare email database?
Among all the best US email database providers, Ampliz is considered to be one of the best. Starting from eliminating all the inaccuracies present in the database and constantly purifying it to prevent data decay, Ampliz gives you all that you need.
When you need to reach healthcare professionals for marketing purposes, our mailing lists allow you to find a variety of medical science professionals including doctors, nurses and administrators.
If you're looking for healthcare mailing lists that can help with your direct marketing efforts, contact us today!
For more updates and information related to the latest hacks and insights of the healthcare world, visit our blogs in our website Ampliz. Also, do not forget to discover our Contextual Healthcare Intelligence platform, where you can find the best personalized data.