Thus… 2020 comes to an end, right?
Obviously, it was not some "happy ever after" year. 2020 has already clearly shown us that now we have to take online marketing very seriously and handle it carefully.
If you have still not invested in it to start your business, now is the time for you to do so!
The best healthcare marketing strategy of 2021 is all about meeting your customer's needs and requirements and changing the marketing strategies that you adopted earlier, to fit in this new world in this year.
The marketing world is evolving continuously and updating itself by including a lot of things, and along with it, the healthcare business is also changing in 2021, the healthcare marketing tools and practices are expected rather required to be more authentic, unique and quite authoritative in order to draw attraction from new customers and re-engage the previous customers.
In the following points, you will get to know about some
Best healthcare marketing strategies
which can help you to improve your healthcare business: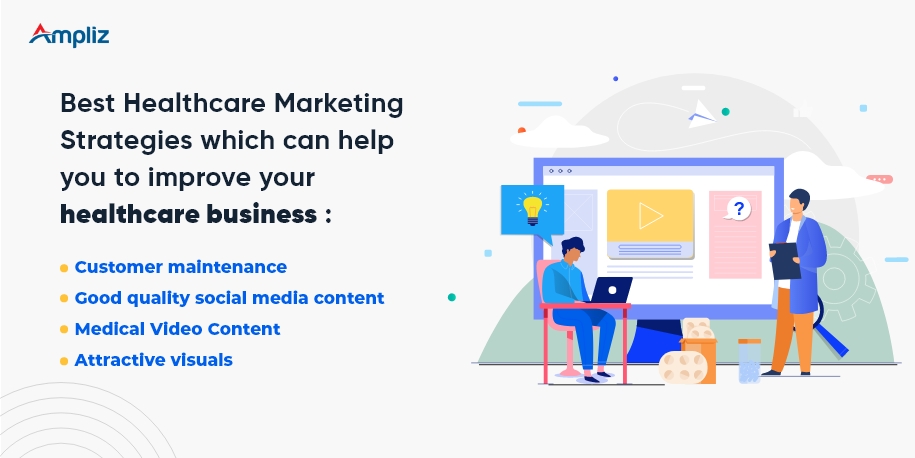 Check our Latest Posts :
#1. Customer maintenance
Patient retention or maintenance will always remain the top priority. Back in the year, 2020, during the Covid-19 lockdown, there were many loyal customers and patients who were stuck to one company or service through all the odds and in all situations.
These businesses used smart practices of healthcare, like, posting content in social media and supported the idea of email and video marketing, to keep their supplies and deliveries at the top of the minds of their customers.
Thus, through this process, the patients and customers remembered them despite not being physically present or going out and calling/booking for their services.
Hence, once everything comes back to normalcy, and the healthcare business start to take its pace, the calendars of these services would already be filled with bookings from their customers because they kept them connected with their business through online communication and of course, emphasized on taking all the safety measures while delivering the products and when they reopened or unpacked the deliveries.
It is very vital to engage a patient through developed strategic content marketing, because it is not only for a preparation that should be taken during an economic shutdown or a world lockdown, but also for the constant and continuous growth of your company.
We already knew that it is a big necessity to maintain a patient's loyalty in order to acquire a new patient, but in 2021, it is no longer a necessity but it has become a priority that should be placed first.
#2. Good quality social media content
One of the best healthcare marketing tools of 2021 and maybe forever, is a good quality social media content.
It has become the most powerful strategy for any business and for healthcare marketing as well. 
New customers and patients would like to see your posts in social media, where you have highlighted your work and the results, the pictures of your products and so on.
Try to bring authenticity to your content and the pictures that you use for your business page.
Repetitive and plagued content are not healthy practices and hence, it does not result in any new positive outcome.
Putting your own company's customized images are always preferred because your new customers want to see your profile and not just some random downloaded image.
Stock images may cause you to lose customers and gradually lowers the online credibility of your brand.
In this year, 2021, the marketing of social media will hold its position in being one of the best healthcare marketing strategies, where authenticity and the frequency of publishing new content would bring the difference.
#3. Medical Video Content
Video content, in 2021, will no longer be some luxurious thing, but will become a necessity.
Many agencies, companies and businesses have seen great success from their customers who all have invested in video production.
Patients and customers love to look back and forth before thinking of any commitment to a new treatment or any medical procedure, and here, the medical video contents, make its way, to demonstrate your capabilities and skills, your results, your practice and your patients, in the most authentic and unique way.
Optimized video content can also be considered as one of the best healthcare marketing tools.
It is most likely to pop up on many search engines, and that too on the first page.
It is already proved that video attracts a lot more patients and viewers, because, who would like to click on a result which only shows texts and not some video where there are chances of visual as well as audio response?
The more your patients go through your page and see your work, the more will they believe and be willing to invest in your business.
#4. Attractive visuals
Attention spans are very limited in this present day scenario.
Your customers are totally into eye-catching headlines and attractive visuals and all these make them sign in and follow your profile.
A content which is very much visually appealing is one of the best healthcare marketing strategies. 
All branded videos, infographics, and so on, are excellent paths to convey any message to your customers, as quickly as possible and surely, this would create a lasting impression in your healthcare business.
Check our recent posts: