Listen to Case Study: 5,000 Email Subscribers (And Beyond) In 5 Weeks [Part 1] on anchor.fm
When Ampliz started we faced the same problem every other startup does:
.
Zero presence. Zero credibility. Zero reputation.
.
We didn't have any idea on how to get early subscribers and turn them into community members. We didn't have any roadmap.
.
June 2019 this was the traffic for our website (Only 824 Users):
.
.
Crickets!
.
That was a bit depressing that only a few people were visiting our website. But that was the reality.
.
When we started, our website wasn't so perfect. Somewhere it was losing the hook.
.
But we're revamping it and launching a new version of our website soon!
.
I remember when we had ZERO subscribers, we used to think a thousand was impossible to get. And now we have more than 5,000 subscribers.
.
In just five weeks, we got 4,320 users, 5,000+ email subscribers, and most importantly 250 free demos of our beta version.
.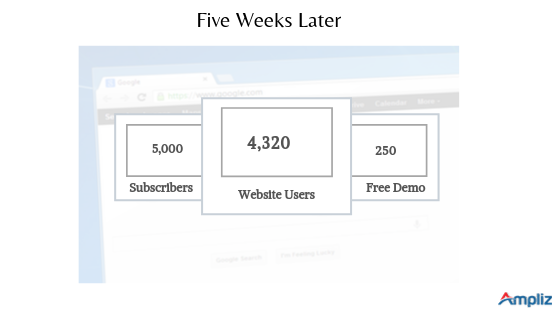 .
Thankfully things have started turning around since then. Chances are, you're reading this post because of the emails we send out every week to our community.
.
So how did we manage to build the 5000 member community? How did we boost our website traffic exponentially? What are the hacks we did to get us where we are?
.
.
Bonus Section: Why Email List Is Important?
Today's question for you:
.
Which of these options is the MOST valuable for an online business?
A. 5,000 Twitter Followers
B. 5,000 Email Subscribers
C. 5,000 Instagram Followers
.
Think…
.
It's B. Probably you're surprised, but it's TRUE.
.
And in the most influencer interviews, they all said that in their early days the #1 mistake they made was: Not building an email list from day ONE.
.
Because email has the highest ROI.
.
Google keeps changing their algorithms. A lot of business owners lost a lot of traffic overnight.
.
On Facebook and Twitter, only 2-3% of followers see our updates. And you have to pay to get your post in front of your audience…
.
You don't own these platforms. So it's risky to build a business there.
.
The solution?
.
Start building your email list.
.
Because you own your list… only YOU.
.
Email is more personal channel that helps to build a relationship with your subscribers and convert them as community members.
.
Let's begin the story of the first three weeks…
Week 1-3 (We Went Crazy)
First, we set up an email service provider. There are some good players out there. We chose MailChimp to set up our email list.
In these three weeks, we focused on TWO strategies to grow our community.
Strategy #1: Go Out and ASK People
.
We built a sales intelligence tool (Chrome extension) which makes prospecting easier. And we were giving 50 free credits to our early members and we called them our "VIP members."
.
Step #1. We started with reaching our 1st-degree contacts and reached out with a message to every one of them
.
Step #2. We sent a simple message to them (Via WhatsApp or Messenger):
.
"Hello [name],

How're things going?

Just wanted to let you know that we're building this new sales intelligence tool – SalesBuddy. This tool will make prospecting easy. I think you might enjoy it. Want to give it a try? Sign up here (and you'll get 50 free credits): [Link]

Or just send us your best email address.

Also, would you help us spread the word by reaching out to 5–10 people who might find this helpful?"
.
Step #3: We're active in some large groups of Facebook. We repeat the same process on Facebook Groups. Why?
.
Because people in these communities have the same interests: Most of the people are sales, marketing, and startups.
.
We posted our message in different communities. Initially, we asked people to visit our site and check out the tool and subscribe for early bird access. But there was a lot of drop-offs.
.
We found out that the content wasn't resonating because we were talking about just the tool and now how it would benefit the different target users – salespeople, startup owners, marketers, freelancers, etc.
.
So we updated the copy:
We focused on the target segment by specifically mentioning the titles in the copy.
We gave a clear idea of what the tool does in 2 lines to keep the focus in place.
We clearly showcased the value of joining as an early access user by giving free credits.
We asked the audience (who were providing their mail IDs) to tag other people in their network who might be interested in using the tool and we got some referrals from this.
And most of the people responded positively to the message. And we collected more than 1,000 email subscribers from these communities.
.
Step #4. We joined the Telegram and Slack communities. And follow the same process. We segmented the audience based on their interest and requirements and tried to approach the right target audience. And these community members showed interest in our Product signup.
.
Step #5: We repeat the same process on linkedIn. Posted an update with some urgency. Take a look:
.
.
Step #6. We created a pre-launch landing page on Product Hunt and shared it across all social media channels. And we got a good number of people from there.
.
Strategy #2: We Created Mouthwatering Lead Magnets
.
A Lead Magnet (Or "Pastry," as we call them at Ampliz).
.
It's something free and valuable resource that you're giving to your audience, It could be a PDF, ebook, checklist, or short video. Bribe to Subscribe.
.
That's all!
.
We created our first lead magnet: Sales Email Checklist.
.
We reached out to some sales and business development guys and asked them one SIMPLE question:
.
"What's the most challenging part of prospecting?"
.
And the #1 answer was: How to write effective sales emails.
.
This pain point inspired us to create "Sales Email Checklist". It took only three hours to create.
.
The best thing about checklists and cheat sheets?
.
These inspire people to take immediate action.
.
We created the checklist. What's next?
.
We built a landing page for this lead magnet where people can drop their email id to download the checklist.
.
.
Then we tied this landing page with an automated welcome email which contains the checklist.
.
.
After this checklist, we created some more checklists, cheatsheets, and ebooks. And these resources helped us to get a good number of subscribers.
.
.
The most important question…
.
"How did we distribute these lead magnets?"
.
Creating valuable lead magnets is GOOD, but distribution is the KEY.
.
Distribution is the REAL fun stuff.
.
Step 1: We created a series of tweets for each lead magnets.
.
Step 2: We posted engaging content on LinkedIn regularly and let people know about our freebies.
.
.
Step 3: We reached out to some influencers on LinkedIn and ask them to share our resources with their network (if they found it valuable).
.
Step 4: We added lead magnets to the bottom of our awesome blog posts. This tactic dramatically grew the number of our subscribers.
.
.
Step 5: We republished our blog posts and resources on Medium and put a Call to Action to our freebie resources. Like this:
.
.
Step 6: We embed a pop-up sign up form on our website. This form gives our visitors a reason to subscribe. If they choose to sign up, they receive an email from us with free credits and a relevant free resource.
.
.
Making It Happen (Like We're Crazy!)
.
In the next part, we'll share some more strategies and techniques that got us those first 5,000 subscribers after 5 weeks (including the exact email scripts that helped build relationships with our subscribers).
.
In this post, we'll show you how we made it happen. Here's a sneak peek:
More strategies and hacks.
How did we convert our subscribers into community members?
How did we nurture them?
And more.
New to Ampliz? To get access to the next parts of this 3-part case study, be a part of our community below.
.
.
See You In the Next Part,
.
Are You Currently Struggling With Prospecting? Get a FREE demo of Ampliz SalesBuddy: Book Your Spot Now
.
Hope you'll enjoy SalesBuddy as much as we do.