In the first part of our road to 5000 member community, we shared how our website was struggling to get traction and what we did to go from zero to 5K subscribers.
Here is part two and we are discussing 3 crucial strategies that helped us elevate our growth game to the next level.
How Did We Plant the Seeds?
Strategy #1. Creating Ebooks with great value
Ebooks are great asset to have and are proven to be a great source for knowledge base. We created multiple ebooks which would appeal to our target audience. Here is the step by step process of the workflow
Step #1. First, we picked a topic that was relevant to our business. When we reached out to people and asked them, 'What's their #1 question when it comes to Lead Generation?"
And most of the people answered: How can they generate leads through LinkedIn?
And Ta-Da!
We got our topic.
Step #2: We did a detailed research on the same and came up with a 35-page eBook: 21 Actionable Tips to Generate Quality Leads From LinkedIn
Step #3: eBook was ready. What did we do next? We created a dedicated landing page (cum blog post) to feature our eBook. And embed a simple sign-up form here and allow people to download it.
Step #4: We started promoting the ebooks a week before the scheduled launch. This helped us create the buzz among our Social community and a strong launch day.
Step #5: Once they have downloaded the ebook, we wanted them to visit back the website for more. On this notion, we added Call to Actions at the end of the book looping them in for the next best content to consume.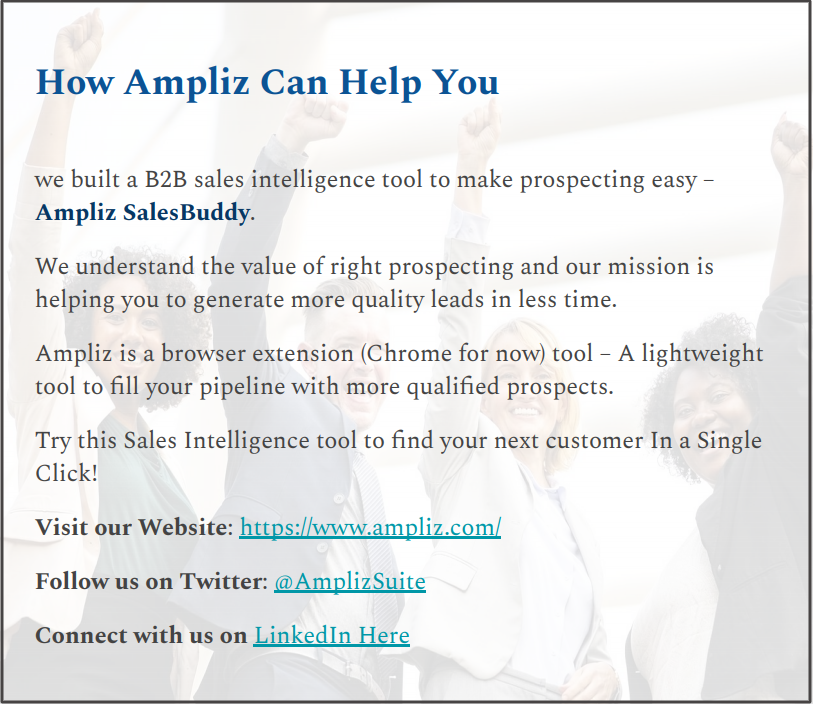 Step #6: Another strategy we tried was to repurpose our case studies and blogs to an eBook. This method helps you to speed up your eBook preparation and reduce time to market.
You can convert your blog posts into an eBook. And each blog post could be a section/chapter in this ebook.
These eBooks helped us to get a lot of community members.
Strategy #2. Starting our own Ampliz Buddy Podcast
One of the best things we did to increase our website traffic, credibility and our community was starting our podcast.
Probably it's because Podcasts are just so convenient, easier to consume, and perfect for storytelling. The fact is there are more than 23 million YouTube channels out there compared to the 700K podcast channels. This is a new market to gain from.
So what did we do and how?
Step #1. Our podcast guests are sales and marketing professionals. And we would connect with them through LinkedIn or they can also reach out to us.
Step #2. We interviewed one guest in our each episode and they share their stories, journey, and insights.
Step #3. The interview spans for 20minutes and then with some basic editing, we publish them across multiple audio and video platforms.
Step #4. The best thing? We put a STRONG call to action at the end of each episode.
One of the best things about interviewing these professionals is that our audience feel inspired by the end of the podcast. And we offer them something valuable that allows them to take immediate action.
Check out the SalesBuddy podcast, hosted by Ashwath
Strategy #3. Creating a Closed Ampliz Social community
If we say organic reach in Social channel like Facebook is dead, it sounds a cliche. But, we still have to say it.
This is what we created a community on Facebook and it helped us reach our target audience more consistently.
We ensured our Social community is treated the same way our exclusive early subscribers are treated. Privileged and had access to exclusive content.
How did it help us?
Facebook group helped us to reach more people that are more likely to become our customers.
We can engage with our prospects on a more personal level
Members gave us valuable feedback.
We got priceless insights and feedback on our content and product.
How did we promote our Facebook community and nurture it?
Step #1. We sent an email newsletter to all our existing email subscribers and ask them to join our Facebook community.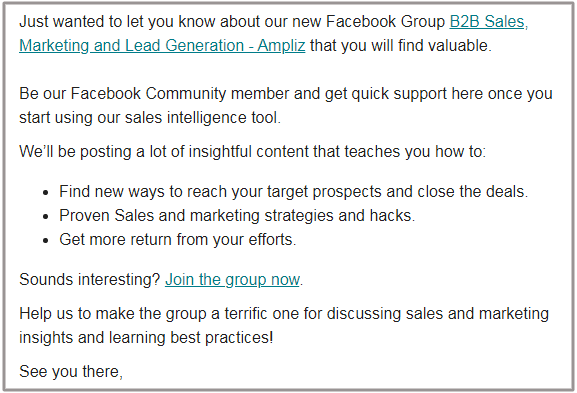 Step #2: We asked our group members to spread the word and promote the group in their network.
Step #3. We linked the Facebook group in our every eBook success Thank You page.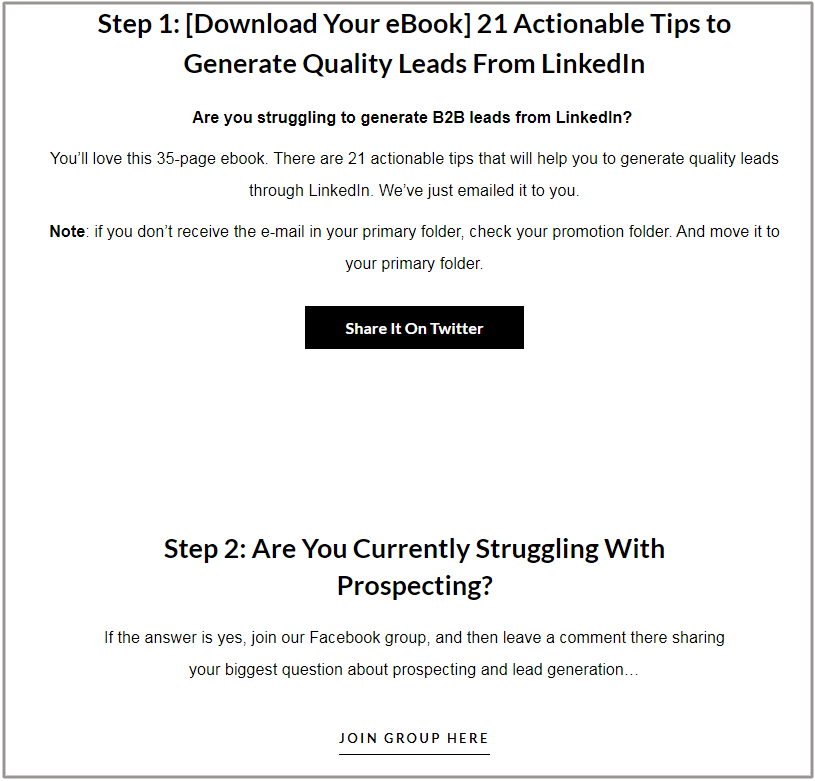 Our purpose to making this Facebook Community was: Make people feel like they belong somewhere and they will make a difference.
Strategy #4. Organizing Free Online Product Demos
A product giveaway is the most effective way that helps us turn a prospect into the promoter. You can refer to any success story of a product in the past and they had something to do with a giveaway.
We organized free demo of our product to our community members and they're able to test the quality of your Ampliz SalesBuddy Tool.
What more? As an early subscriber, they are also entitled to avail 100 free credits (one credit equals the contact info of one contact) when the product is launched.
We got some good feedback and insights on our products that helped us to make it more effective. And word of mouth got us some good number of subscribers.
We just sent a simple email to our members and asked them to take a free demo.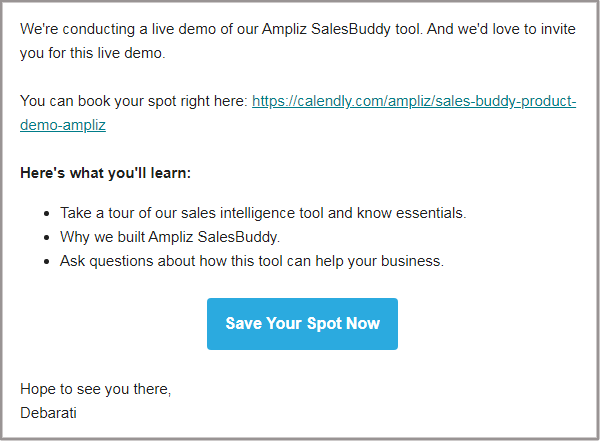 When we created our onboarding page, we asked our community members what they think about it. And took their feedback and made suggested changes.
Take a look at our onboarding screen: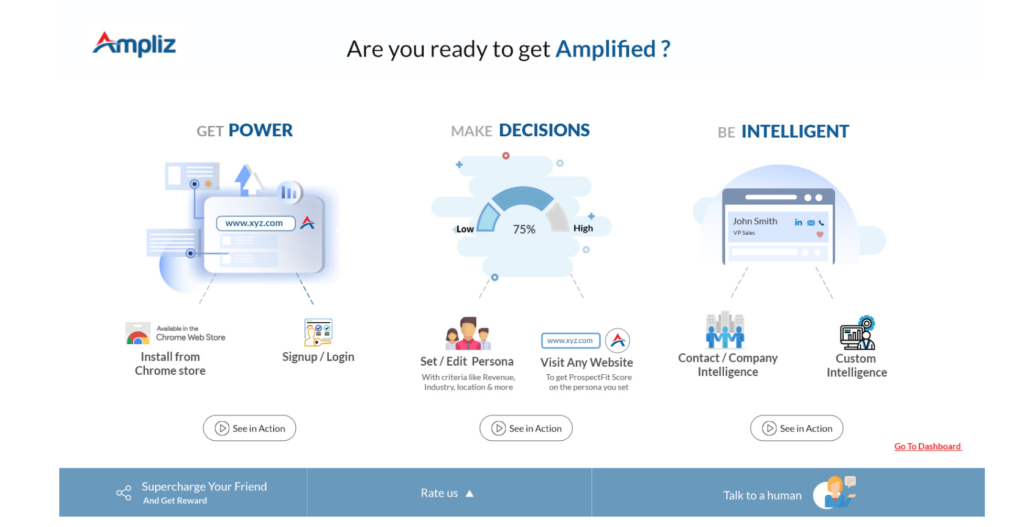 What's Next?
In the next part, We'll talk about how we're nurturing our community members on different channels.
New to Ampliz? To get access to PDF format of this complete 3-part case study, be a part of our community below.
See You In the Next Part,
Are You Currently Struggling With Prospecting? Get a FREE demo of Ampliz SalesBuddy: Book Your Spot Now
.
Hope you'll enjoy SalesBuddy as much as we do.